Are we ready to spill the beans? I feel ready to spill the beans. It is Canadian Thanksgiving Weekend after all …so pretend the beans I'm spilling are garlic-buttered green beans. Okay, so here it is. My maternity leave officially ended yesterday. And…. two weeks ago? I resigned from my old job.
There I said it. Plain truth. Big truth. SCARY TRUTH. But such an awesome truth.
Notwithstanding having a baby and becoming a mother to a child who amazes me with her joy each and every day, I went through a lot of changes in the past twelve months. I evaluated areas of my life that were causing me stress, pain, anxiety; that were creating and reinforcing limiting beliefs in my own mind about my abilities to be successful in my own way and as a result, I shifted my focus heavily.
I shifted away from projects that felt meaningless – so no, I'm not putting myself through the stress of doing the October One Room Challenge, I'll makeover rooms at my own pace (and of course share with you!!). I shifted away from preconceived notions – yes, I can be professionally fulfilled and be a good mother who loves her child ALL AT ONCE. And in some cases, I shifted away from people – enough said.
At the same time, I put myself in the path of projects, notions and people I want to be like and admire. New podcast? New role with a new company? Yes please. Me likey those things.
As I did that, new opportunities and new thoughts emerged and they became too loud to ignore.
"What's that? My experience as a journalist and a professional content strategist is rare, valuable and super fun and isn't something to hide away and whisper about? Let's follow that train of thought and see where it leads! (Hint: to Awesome Town)"
"Huh?! It can be my job and I can make a living working with and hanging out with my new business partner and my In The Storyhouse co-host every week?" Stop the presses! Is it possible that I'm surround by awesome people ALL THE TIME? Yes. Yes. It is. Because that is what I choose. Full stop.
I'm making light of this decision right now, but it wasn't easy. I spent hours, days, weeks meditating, considering, reconsidering, evaluating, reevaluating, dreaming, feeling like I was in a nightmare, delighting in success, wallowing in defeat. I find it funny that the year I was technically 'jobless' and 'unemployed' was the year I finally did the hard work of getting my head on straight, stopped looking back… and just leaped forward.
But you know what? It's so much dang easier to pursue happy than it is to sit back and watch it happen to someone else. So. Much. Easier.
You probably didn't even notice that I didn't participate in the Monthly DIY Challenge this month – for the first time in three years. Why? Because I'm moving on. Not in a bad way. I loved the challenge! But my life is different than it was three years ago – change is as good as a rest. Leaving my old job is a major part of allowing me to 'find rest'. Next week, I tackle a new AMAZING role working with a team I genuinely ADORE. We are writing the book, starting from scratch, building something so incredible, we can't yet imagine what it will look like – and I cannot wait. None of this feels like a job. All of this feels like a natural extension of me.
With all that said, I will be here weekly with this link party, weekly with In The Storyhouse and likely every couple of weeks with a great DIY and decor post. These shifts in focus have brought me great success (which blows my mind!) and because of that – I've been able to expand the DIY Passion team!! Starting next month, one day a week, you'll be treated to a guest writer selected by me. I can't wait to introduce you to a few more creators and bloggers. I think it's going to be lots of fun.
So that's the news! Thank you all for being the most supportive readers any blogger gal could ever ask for. You don't know how much it means to me that you've stuck by me through all of this. It truly means a lot.
Okay – enough yammering on haha… If you want to check out the latest episode of In The Storyhouse, it's embedded below and linked here on iTunes and here on Soundcloud. It's all about BlogPodium and we recorded it on site in Toronto.
---
The Creative Gallery
Hosted by:
Kristi at Making it in the Mountains
Emily at Our House Now a Home
Sarah at Making Joy & Pretty Things
Kelly at North Country Nest
Erin at DIY Passion
Gemma at The Sweetest Digs
---
And now, here's the latest from DIY Passion this week:
It is Thanksgiving after all! In this post, I show you my Thanksgiving Tablescape! You can also see the video I did here.

And now for some of my favorites from last week's party:
Love love this creative upcycle by the Interior Frugalista! She turned three tables into one stunning etagere style shelving unit.
This pineapple pumpkin by Living La Vida Holoka might be the cutest thing I've seen in a while!
And Flamingo Toes does it again! Where does she get the creativity to come up with pumpkins as pretty as these?!?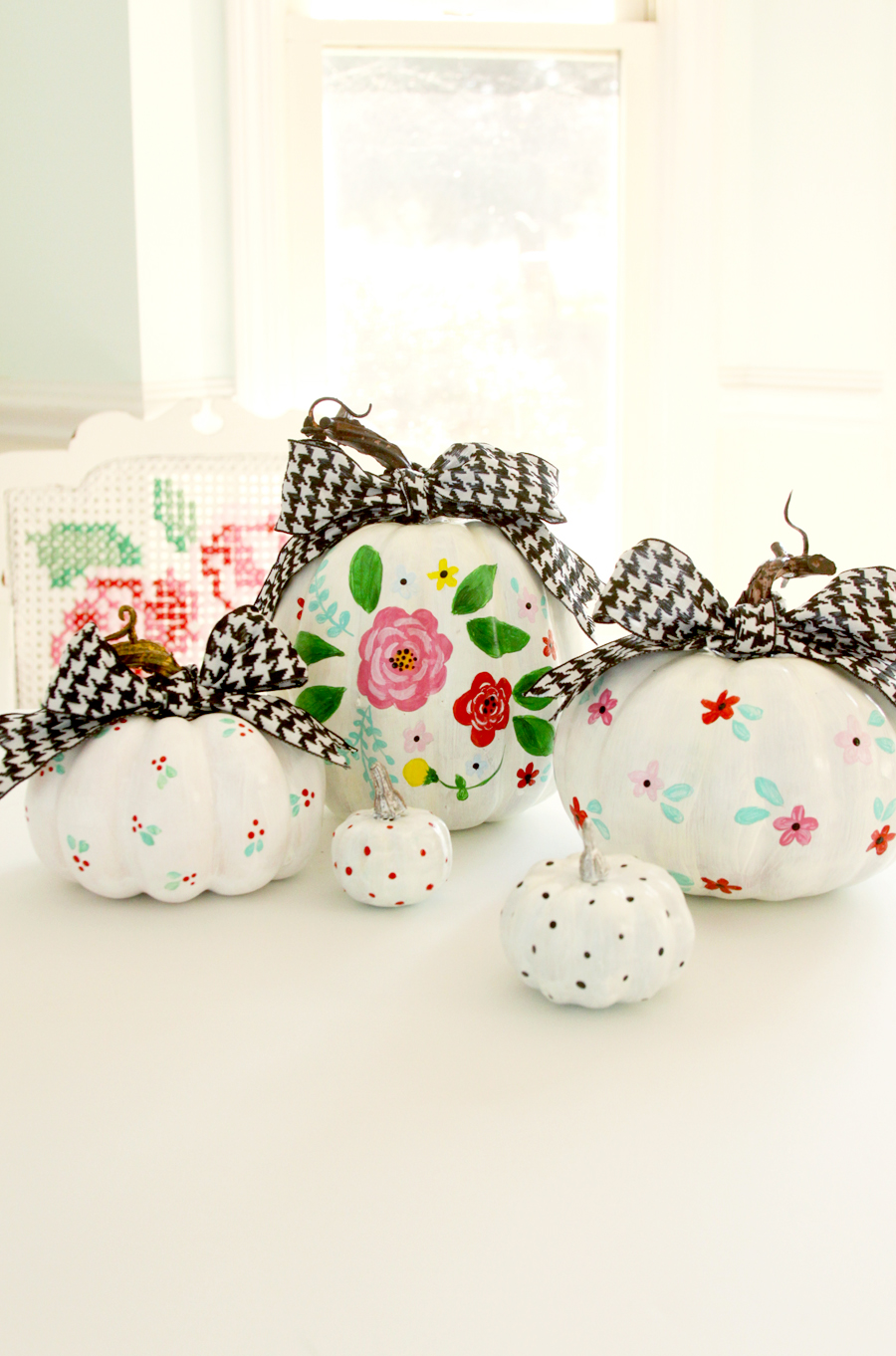 ---
Let's get our party on!
But first, just a few things to keep in mind…
Share your own work/creativity/projects only.
No links to promote giveaways, link parties or shops.
By entering a link, you're giving us permission to feature an image on our blogs and/or social media pages (proper credit & links will always be included).