Inside: Tackle the most disorganized area in your home or property! Garage and shed organization ideas, plus how to use the super popular Konmari Method to keep the clutter at bay for good.
When it comes to organizing our homes, it's probably safe to say we all have at least one space that is always total chaos, right?
For me, it's the place where we store our tools and my DIY supplies.
For most people, that's a garage or back shed.
Today, as we continue to examine how to use the Konmari Method to declutter all areas of the home – we are going to take a hard look at Garage and Shed Organization Ideas to see how they can benefit us all in the long term.
This post contains affiliate links – see our disclosure policy here.
1. How to use Konmari in the Garage or Shed
If you're not familiar with Konmari, it's a framework designed to help you quickly and easily declutter all areas of your home.
We have already tackled our kitchen and we've done a number of smaller areas such as my craft supplies and my jewelry organization.
The Konmari method takes the guesswork out of what to keep and what to toss away and is supposed to result in you having a totally new and organized living space.
It's created by Japanese author and professional organizer Marie Kondo and it's wildly popular.
The crux of the Konmari Method is to let go of anything that does not spark joy in your heart, or in reverse, only keep things that truly serve an ultimate and higher purpose.
Marie Kondo organization is all about keeping only the things that bring your joy and that you really need. This was quite a challenging task when I had to declutter belts and scarves with the KonMari Method.
In the garage or shed, however, this can prove mentally challenging because we don't use these things daily and some are purely seasonal or one-use items.
2. Declutter Tools for a Garage or Shed Organization
Check further garage declutter and organization tools:
3. Declutter the Garage or Shed with the KonMari Method
Since we moved into this house two and a half years ago, this area of our home, which we affectionately call 'the studio' has become a safe haven for the rarely used, barely useful, used up and once-useful-but-now-forgotten CRAP.
However, knowing about the unexpected, joyful benefits of the KonMari Method, I knew that I had to declutter the garage.
We've brought in Konmari storage 'solutions' (something that Kondo talks about as being the foil to anyone's attempt to truly declutter) and as Kondo predicted, it resulted in nothing good.
This would be our space equivalent to a work shop, shed or garage.
When we started to KonMari our studio of tools and the like – it looked like this.
If you're following Kondo's method to the tee, you have to be ready for an embarrassing state.
Indeed, the Konmari organization method suggests that you must empty the entire contents of the space into another space.
In our case, that was the lawn. It was pretty bad. Once you've done that, the next step is to sort all the items into distinct categories.
Seasonal items required for the maintenance of your property: lawn mowers, hedge trimmers etc.
Broken items or things that are totally worn out -place these in the trash
Redundant items – I had three drills at this point. Any duplicates can be donated
Miscellany – this was the largest category for us, but it was full of left over pieces from furniture, random tools and wall hangings, empty picture frames, ends of wrapping paper, outdoor tables we hadn't used in two years, sweeping pads for a mop we no longer owned.
You get the picture, right. The sorting is what will take the longest.
The only pile you will be keeping and need to organize in your garage or shed should be the seasonal and functional items that you have used in the last twelve months.
Everything else can be either donated or thrown out. Yes, during your garage and shed organization, you need to say goodbye to non-essential things!
4. Garage or Shed Organization Ideas
Now is the absolute fun part! You only have what you need, now the trick is to make space for it.
We won't be tackling our shed walls until next spring (when it's warmer and we're able to work more outside), but these are some of the best ways to use the space you have to organize all your outdoor and indoor tools in the garage.
Organizing Power Tools
I love this simple hanging power tool solution from The Heathered Nest.
Eventually, I'd like to get to a place where this is the reality in my space. We are almost there!
Organizing Hand Tools
I adore using magnets to organize things and this is a genius way to store hand tools so they are visible and always in reach. – Check prices here
I especially like it as a solution for storing drill bits (which I always seem to lose!)
This is basically genius! I've also used magnets to hang extra shelves in my metal storage lockers.
They really do work quite well. The cute addition of the vintage-looking tin cans on this one is a nice touch of design too. They're so handy when working on your garage and shed organization.
Organizing Garden Equipment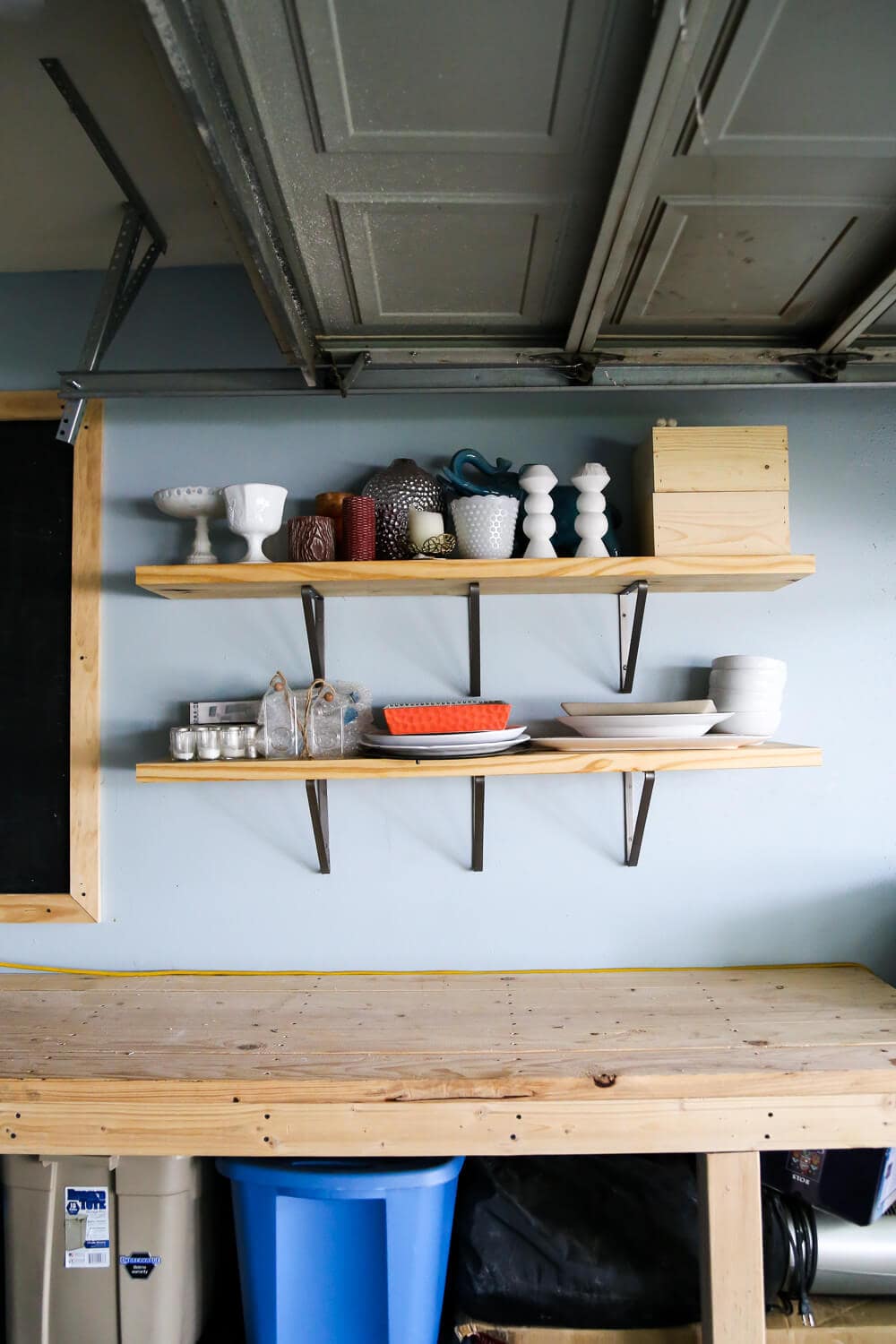 Love and Renovations has a great set up using large storage totes and a huge DIY work bench running along the garage wall.
This would work really well for outdoor seasonal decor, Christmas decorations and lawn care items.
This homeowner uses PVC pipe, much like the power tool organization, but on a larger scale to be able to hang garden tools on the wall.
This is such a simple and effective way to use all the space in your shed!
5. Categories for garage organization
Organizing a garage is a hefty task unless you follow proper rules to organize things. You need to take out some time, either a full day or a weekend to get your garage cleaned.
The job can be easier if you involve your friends and family.
However, the basic aspect is to follow the fundamental categories of organizing a garage.
Figuring out different garage categories for organizing the stuff can be convenient. So here are different categories using which you can get started with organizing the garage.
1. Draft a floor plan
Many retailers of garage-storage systems provide free floor planning. You can use these services to figure out how to store all your stuff. Before purchasing anything, note down the dimension of your garage.
After you take down the dimensions, sort items from similar categories close to each other.
It would be helpful to keep heavy equipment in the corners so that they do not bump with any other thing. Also, keep regularly used things close to the door like bikes.
2. Take things off the garage floor
Try not keeping things on the garage floor whenever possible. You can purchase readymade cabinets that have raised-on legs and put everything on it. It is a garage organisation DIY idea that will work for you.
3. Purchase must-have storage products for garage
Certain things are essential for garage organization. The garage organization tips and tricks include storage products like bins, clear jars, and a lockable cabinet
6. My favorite Marie Kondo Storage Ideas for Garage
It is no doubt that Marie Kondo is transforming the way people live and view things in their homes. With her transformational organizational methods, her room to room method is becoming popular including the garage.
The garage can sometimes be a storage space of the home. It can be intimidating if not done properly. Here are some Marie Kondo garage organizing ideas you can follow.
Take everything out and tidy it up. First of all, you need to start with determining what you have in your garage. Unbox all the cartoons and pull everything out of the bins, shelves, boxes, and corners.
Begin piling all the things. Marie Kondo garage organizing tips recommend that piling up all things according to a category is helpful.
For example, keep tools in one, decor items in another, and so on. Before starting to sort everything, it is important to know what you have in the garage.
Eliminate unnecessary things It is a crucial step after pulling out everything. When you have everything in piles, it is time to look at every pile and decide whether it is necessary for you or not.
Start sorting through all the piles and keep each item only is "sparks joy" for you, according to Mari Kondo garage organization rules.
If it does not "spark joy", eliminate it.
Box it up vertically Place all the sorted piles vertically. And then properly place all the boxes utilizing the space that works best for you.
---
Short FAQ about Garage and Shed Organization
How to a "do it yourself" garage organization?
It is very easy to organize your garage in a DIY way. My favorite "do it yourself" garage organization is the KonMari method.
How much does a garage organization cost?
A garage organization can cost as low as $5. Of course you can increase the budget to your needs.
What is the best garage organization system?
In my opinion, the best garage organization system is the KonMari method.
---
Here are some other posts you might like:
Still need more organizing and decluttering ideas?? Check out my other posts below