Inside: [VIDEO] How to make a DIY Faux Succulent Wreath for any season! Plus a roundup of other amazing succulent wreath ideas.
This is a super quick and simple wreath tutorial for you today. You all know how much I love wreaths. They are great seasonal decor and an almost perfect way to introduce texture into your decor. They are also fairly easy to make yourself if you have the right supplies. Today, I'm going to show you how to make a DIY Faux Succulent Wreath.
This post contains affiliate links. See our disclosure policy here.
If you're looking for more make sure you check out my DIY Marble Succulent Pots and this amazing tutorial for a DIY Himmeli Style Hanging Planter.

Supplies to make a DIY Faux Succulent Wreath
*affiliate links
VIDEO: How to make a Faux Succulent Wreath
In the above video, you can watch as I put together the wreath and answer questions from readers about whether faux succulents are cheaper than real succulents. I don't think they save you much money. But they do save you time in terms of taking care of the succulents.
How to put a Faux Succulent Wreath Together
Step One – Remove the stems from the succulents
You'll want to remove the tops of all the succulents and in some cases cut the groupings down to smaller blooms and greenery. You can typically do this by just popping them off the faux stem, or cutting them with thick heavy crafting scissors.
Step Two – Arrange your Succulents
Practice your layout on your wreath. Make sure to mix up colours, textures and sizes. Place groupings so they trail and make sure the succulents are all able to touch the grapevine wreath twigs or they won't sit properly.
Step Three – Glue the Succulents
Use a heavy duty glue gun to affix the succulents to the wreath, pressing down as you go. Leave it flat to dry for a few hours prior to hanging. Hang with a ribbon or hook!
The best way to learn how to make this succulent wreath is to watch me do it live on Facebook!
Here's the finished Faux Succulent Wreath
I love the way it turned out! It has been in our dining room ever since I made it in the spring and I don't intend to take it down until at least Christmas.
How long do succulent wreaths last?
Good question! Well, your faux succulent wreath should, in theory, last forever. If you take care of it and keep it away from harsh outdoor conditions, it'll be beautiful for a long time.
Note: If you are making a Christmas succulent wreath, you will want to pay special attention to the weather AND to colours bleeding off decorations onto your greenery. I learned this the hard way. Please don't be like I was!
How long a REAL succulent wreath will last
According to SGPlants, your real succulent wreath can last up to five years!
To make it last that long, it will need regular pruning and watering – which is honestly why I prefer to use the fake succulents for my decor. I'm not disciplined enough to keep a real succulent wreath alive!
Other types of DIY Wreaths
Wreaths are expensive to buy, easy to make and they are fun to customize so I have mad quite a few DIY wreaths in my day! If you're into farmhouse wreaths, I have this farmhouse, rustic wreath that I made with an old book. If you are more into wood tones and something a bit more modern, check out my wood shim wreath for spring.
If Christmas wreaths are your thing, I have a fabulous DIY Christmas wreath for a door made of small wood pieces and using customizable stain.
Here are some other DIY wreath projects using succulents you might like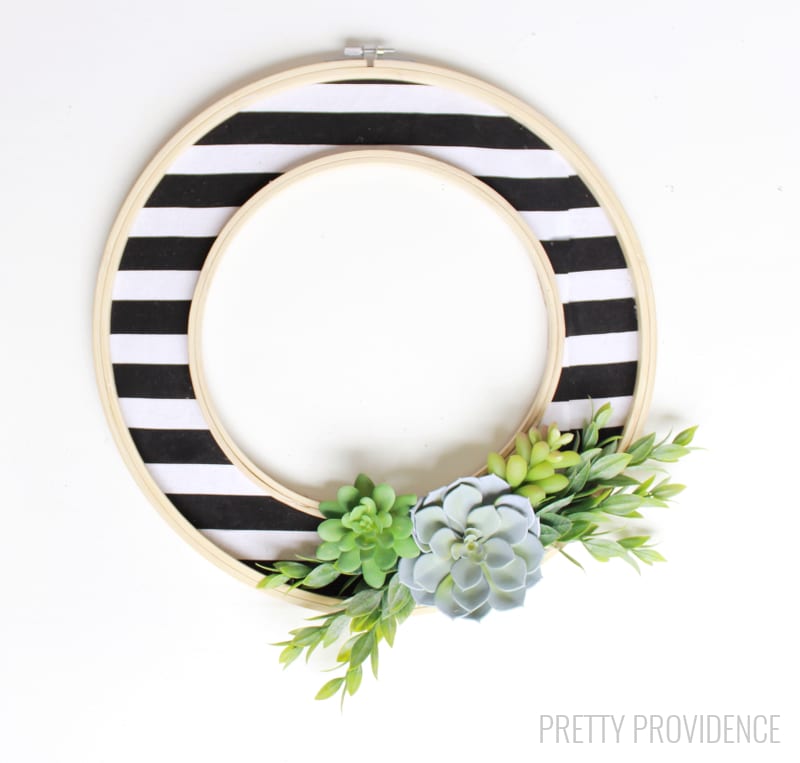 Pretty Providence makes the CUTEST modern Succulent wreath you ever saw. I adore this – don't you??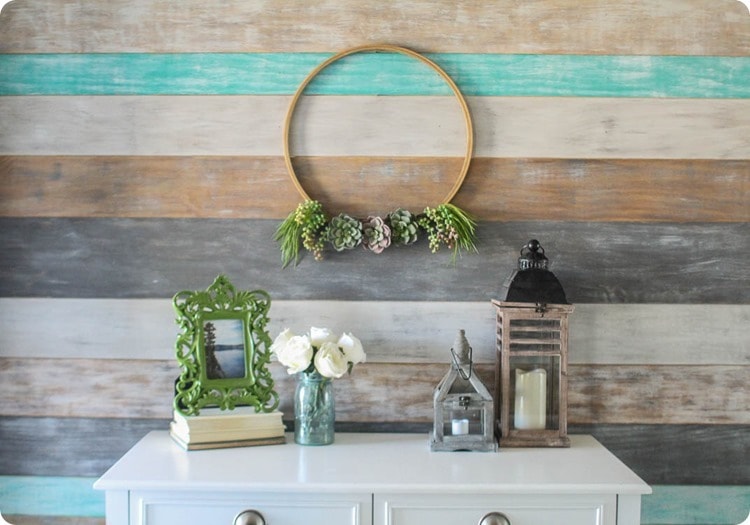 Lovely Etc. makes a simple succulent wreath to hang on her front door. I think using embroidery hoops is another great and classic way to achieve a wreath look. I might have to try this for fall!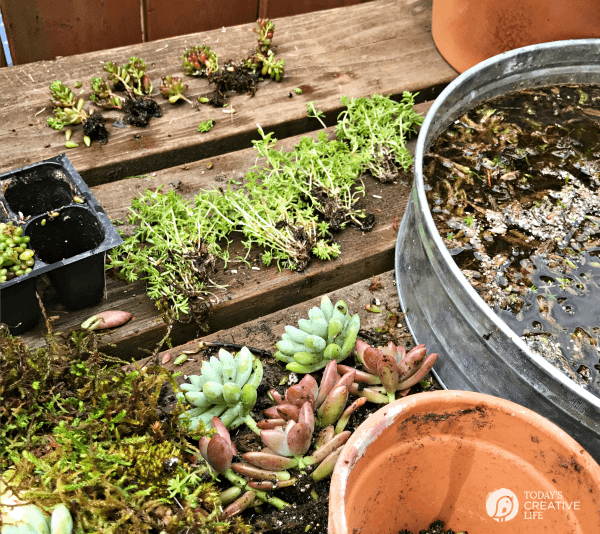 Today's Creative Life actually makes a wreath out of real live succulents and she has a video showing how to do it with moss and wire and ribbon. It looks absolutely striking on her front porch door!
Here Tater Tots and Jello makes another modern succulent wreath using a wrapped wreath form, striped ribbon and faux plants. I love the contrast on this!
Still not enough? Want more DIY Wreaths??
Check out my DIY Book Page Wreath and my DIY Wood Shim and Paper Flower wreath. You might also want to look at my recent round up post of Gorgeous Fall Wreaths for some more ideas.