Inside: A full tutorial for how to make 3D Christmas Trees from wood using a jigsaw and metallic paint.
This might be one of my favorite holiday projects I've ever done and I love that it's simple and affordable. Today, I'm showing you how to make 3D Christmas Trees. This project is completely customizable based on size, shape and colour. If you follow the basic principles, you'll have gorgeous decor to last you all winter long.
If you're just landing here today – you'll definitely want to check out my other holiday content .- like my Scrap Trees to Hang on the Wall (versus these 3D trees), my potted paper Christmas trees and my DIY Ornament Chandelier.
Supplies to Make 3D Christmas Trees
*affiliate links
1 x 1×8 pine board
1 x 1×10 pine board
Tools to make 3D Christmas Trees
In-Depth Steps to make 3D Christmas Trees
Step One: Measure and draw
The first thing you want to do is measure and draw your trees. I recommend drawing your tree on one 1×8, following the steps to cut it out and then tracing it for the second tree. This way, your trees will match almost perfectly. In terms of the measurements, my 1×8 tree used the full width of the board and stands about 13″ tall. The most important part to remember is the trunk size – don't make it too thin or your tree won't stand up. Make sure to draw it at least 2.5 x as wide as your board is thick. (In my case that was 2.5″)
Step Two: Clamp and cut
Clamp your board down and use a jigsaw to cut it out. Don't worry about getting it perfectly clamped. This tree is an awkward shape and if you're anything like I am, you'll have to reclamp it every few minutes. The key thing is to focus on your pencil line and keep the jigsaw steady.
Step Three: Make your 3D jigsaw cuts
Cut the notches in the trees. One notch will be coming up from the trunk (like in the first process photo) and the other notch will be on the second tree and come from the top of the tree. It's important that the notches both go to the middle section of the tree and that they are wide enough to fit the width of your wood – in this case 7/8″.
Measure and cut them with the jigsaw and test the fit. If it's too snug, trim with the jigsaw, or you can be super precise and sand down the notch until the jigsaw pieces fit smoothly and snugly together.
Step Four: Sand, Seal and Paint
Sand your trees smooth (if you haven't done so already) and prime them with a clear wood sealant.
I like to use Americana Decor Sealant for craft projects like this. It dries clear, doesn't smell and it dries quickly. In a couple hours, apply thin coats of metallic paint to your trees until you achieve your desired, sparkly look.
Step Five: Finish your Trees!
Once your trees are dry, fit them together via the notches and make sure they stand up straight. If they are a little skewiff, sand the bottoms gently to get them to sit straighter. If they are a lot skewiff, then use a chop saw to straighten the bottom trunk so they sit properly.
Repeat this and make as many trees in as many shapes, sizes and colours as you'd like!
Other DIY Tree Tutorials from Around the Web
Hello Little Home has these adorable fabric mini trees.
Dream a Little Bigger has taken colourful trees to a whole new level. I love the button detailing on these!
Pretty Providence has these great, modern looking fringe trees. I love these for all winter long, don't you?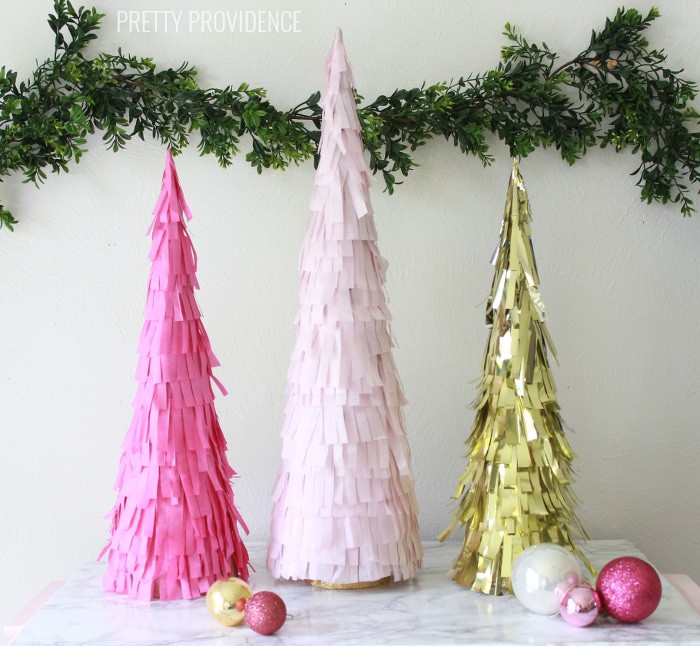 What's a faux tree without some faux fur?? The Happy Housie strikes again with this decidedly Hygge project.
And for a customizable tree experience, Mod Podge Rocks has adorned some mini trees with chalkboard paint. And it's a super fun result, don't you think?
Need more Holiday Ideas? Check out these fresh posts with tons of Holiday DIY Inspiration
Inside: A modern take on a classic family recipe for old fashioned holiday pull apart…