Inside: Inspiration and Idea for all the ways to decorate using plaid in your home; from buffalo plaid to gingham and more. 
When I polled my audience on Facebook, a bunch of people came back and asked me to write a post about how to decorate with plaid! I was a bit surprised, but excited by the idea of digging into this timeless, classic pattern that, truthfully, I haven't used much in my home yet. So let's do this and look at All the Ways You Can Decorate with Plaid in your Home!
Why Some People are Afraid to Decorate with Plaid
Okay, here's what I think. I believe some people are afraid to decorate with plaid because it can be seen as a) a really strong pattern and b) too rustic or country for today's more modern aesthetic. It has a connotation from the 80s of dark green and red with gold thread – ya know? But modern plaids aren't really like that and can be treated as a dominant or complimentary pattern in almost any space.
What is the difference between plaid and gingham?
Good question! I'm so happy you asked 😉 Ha! Plaid is a very traditional weave, dating back hundreds of years and is identified by the intersection of two different colours of wool to create a weave like pattern. The 'checks' don't have to be all the same width or length. Gingham is closely related to plaid, but is much more symmetrical and tends to really only have two shades of colour – white or cream and then a strong contrasting colour like black, blue, beige or shades of red. Of course now, there are no rules – but we could reasonably say that all ginghams are forms of plaid.
How to incorporate Plaid into your Home Decor
Okay. let's get to the nitty gritty shall we? There are tons of ways to incorporate plaid into your home decor. Let's start with a few simple updates. I totally agree that it can be overwhelming, but a good place to start is by bringing it into your holiday or seasonal decor first. Then you see how you like living with the pattern and can decide if you want to use it year round.
Ideas for using Buffalo Plaid during the Holidays
I love the idea of wooden crates at the holidays to use as gift boxes or to coral presents under the tree. I have a post about how to easily paint a basic wooden crate with buffalo plaid – so be sure to check that out for inspiration.
I love the idea of transforming a holiday textile from a big box store into something custom and very affordable! In this tutorial Heidi at Happiness is Homemade makes an awesome checkered pillow from a blanket she found at Target!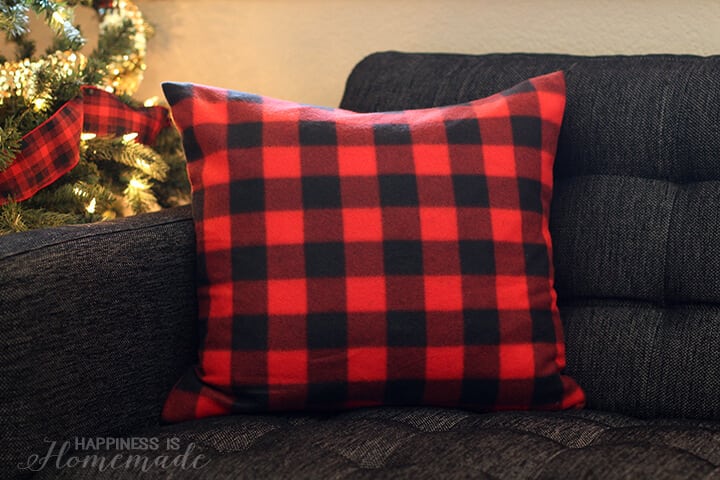 If you aren't into the DIY sewing thing (and I'm not really that into it either, so no worries or judgement!) – there are some great off the shelf plaid pillows you can buy now. I've linked a few below to give you some ideas.
And here, The Heathered Nest has a reverse tutorial! She takes pre-existing plaid placements and turns them into a stylish, holiday clutch purse. I guess what I'm saying is to get comfortable with plaid, you first need to bring it into your home in small doses; whether it's toss pillows, small fashion accessories or little textiles like cookie jars or mugs.
How to bring Plaid into your Home Decor in a Big Way
Now that we're used to the idea, let's talk about how to really decorate with plaid or gingham. One of the most fun ways to do that is with accent furniture, like occasional chairs or ottomans. (uses affiliate links)
This amazing buffalo plaid chair would look perfect in a neutral living room next to  a beige or leather sofa and with soft blues and greys mixed in. It's a classic style chair and it could really be in any room! It could even go in a bedroom or an office space. 
I also love this plaid fabric storage tote! How cute is this in a kids' room or in a laundry room space! I really think the key to using plaid these days is to stick to two-tone plaids and have them keep in line with the colours you're already using in your home. Don't crowd them with other patterns either. So I would hesitate to put a floral pillow on a plaid chair – but you never know! 
If you are more on the traditional side, a modern tufted storage ottoman in a trad-plaid might be a good option for you. This particular ottoman is gigantic and would really anchor a space. I can see it sitting on a nice neutral rug with plush couches and chairs around it. This would be great at a beach house or cottage, don't you think? 
How to add Plaid to your Walls
Oh my goodness. If you're really investing in this whole plaid decorating thing, you might want to consider going REALLY BIG with it and adding a plaid accent wall into your home. This can be done with fabric, paint or paper – so you have options and certainly varying levels of difficulty. Let's talk about the fabric option first. This would be simply adding in some strong plaid drapery panels to anchor a space. Check out how Jennifer used plaid panel drapery in her Master Bedroom here. 
The next way to add plaid to your walls is with wall paper! There are SO Many options, but I found the most variety on the Wayfair sites (both Canada and US sites). I've linked a banner below with some of their top sellers.
Lastly, you can add plaid to your walls with PAINT! This will take you a while and require some attention to detail, but it's really the least expensive way to go big with plaid in your home, I think. And I'm going to be attempting something like this in my office very soon!
In this tutorial A Girl and a Glue gun combines blacks, blues and whites to create a statement wall in a bedroom. 
Here are some other posts you'll love
This post contains affiliate links for your convenience. Please see our disclosure and privacy policy here.