Inside: How to make a customizable DIY tablet stand to give as a gift. This project uses basic tools and chalkboard paint!
I love to bake at the holidays – don't you? But I'm not the tidiest baker – I tend to get flour all over the place and dough typically flies through the air like snowflakes and sprinkles LOL. I have been using a workaround in the kitchen where I put my laptop or tablet in the dining room, pull up the recipe on there and then run back and forth as I bake to make sure I'm completing all the steps. To say it's inefficient would be understating it. This year, I decided to Make a DIY Tablet Stand to avoid baking catastrophes and possible to give as a gift to someone 🙂
If you are looking for more holiday gift giving inspiration, have a look at my DIY Miniature Fairy Garden! So cute for a hostess gift. I've also got another simple build project tutorial about how to make Hygge Scrap Wood Trees for your walls. These could work as a gift, but are definitely better suited to decor.
Supplies for a DIY Tablet Stand
*affiliate links
1 x 8×11 (I cut this from a 1×10)
1 x 1×2
Tools for a DIY Tablet Stand
In-Depth Steps for how to make a DIY Tablet Stand
Step One: Measure and Cut
The most important thing is that your project fits your tablet – right? We have two tablets in our house, so I sized my project to fit the larger of the two. I cut down a 1×10 into a piece that measures 8″ x 11″ using my mitre saw.
The next cuts I made were for the front holder piece and the back 'kick stand'. I used a 1×2 for this, and cut the front piece to an 8″ length and the back piece to 4.5″.
Step Two: Sand and Stain
I used my palm sander to smooth out the boards and any rough edges and then turned to my favourite Minwax stain wipes to give the wood some depth. I used the Natural Oak finish.
Step Three: Add the chalkboard
Once the stain is dry (give it a couple hours), tape off the tablet holder using Frog Tape and paint the chalkboard centre using a foam brush. This will take at least three even and thin coats and the dry time on this paint is loooooong. You'll need to wait at least four hours between coats for it to cure properly.
Step Four: Assemble your tablet stand
Add wood glue to the 1x2x8″ piece and affix it to the front-bottom of your tablet stand, secure it with a couple of brad nails. Then on the back, measure the middle of the board and gently drill in the small hinge, attaching it to the end of the 1x2x4.5″ piece which will act as the 'stand' part.
If you are going to use the chalkboard, you'll want to prime it right away by rubbing a piece of chalk all over it and then erasing it. This will stop your chalk from permanently etching the surface.
Other DIY Builds that you can give as gifts
DIY Candy has a great idea for how to build a DIY beer caddy!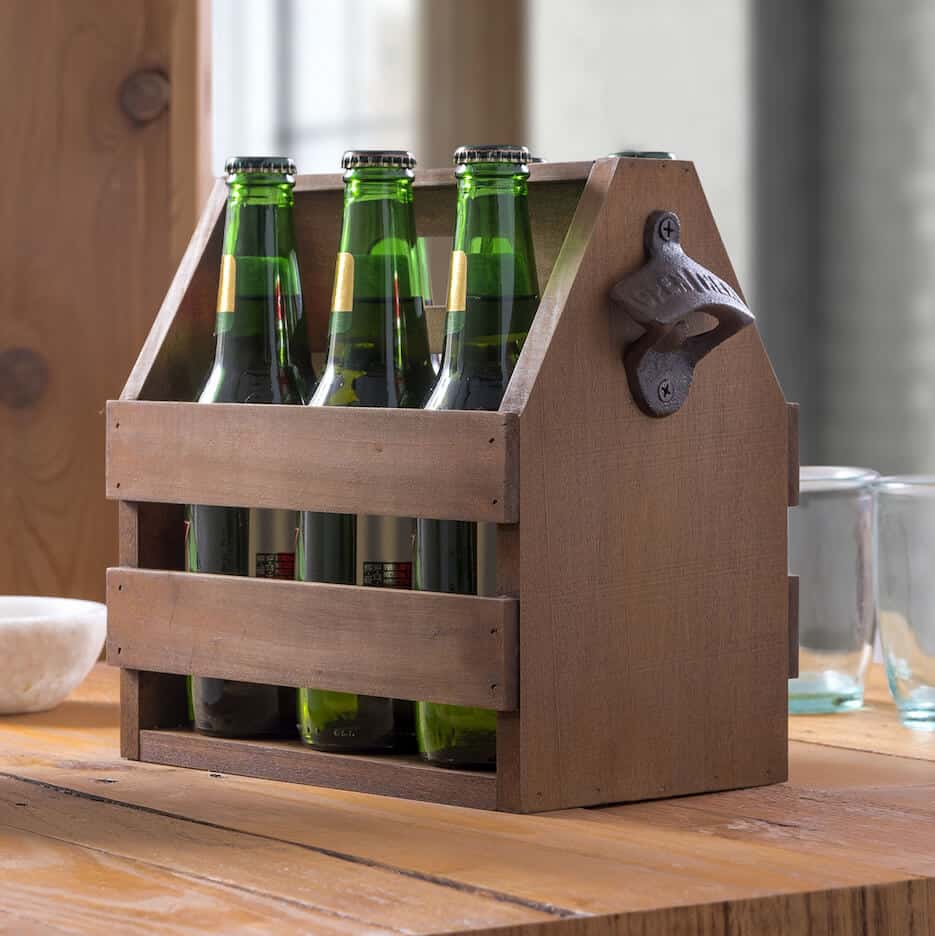 An Oregon Cottage is after my heart with this DIY Wooden Gift box full of HOT SAUCE!! We honestly just gave something like this to my MIL – I love giving edible gifts, don't you?
Along the same lines Making Manzanita has a great tutorial for how to make a wall mounted bottle opener. This is a Father's Day gift – but definitely works for the holidays as well.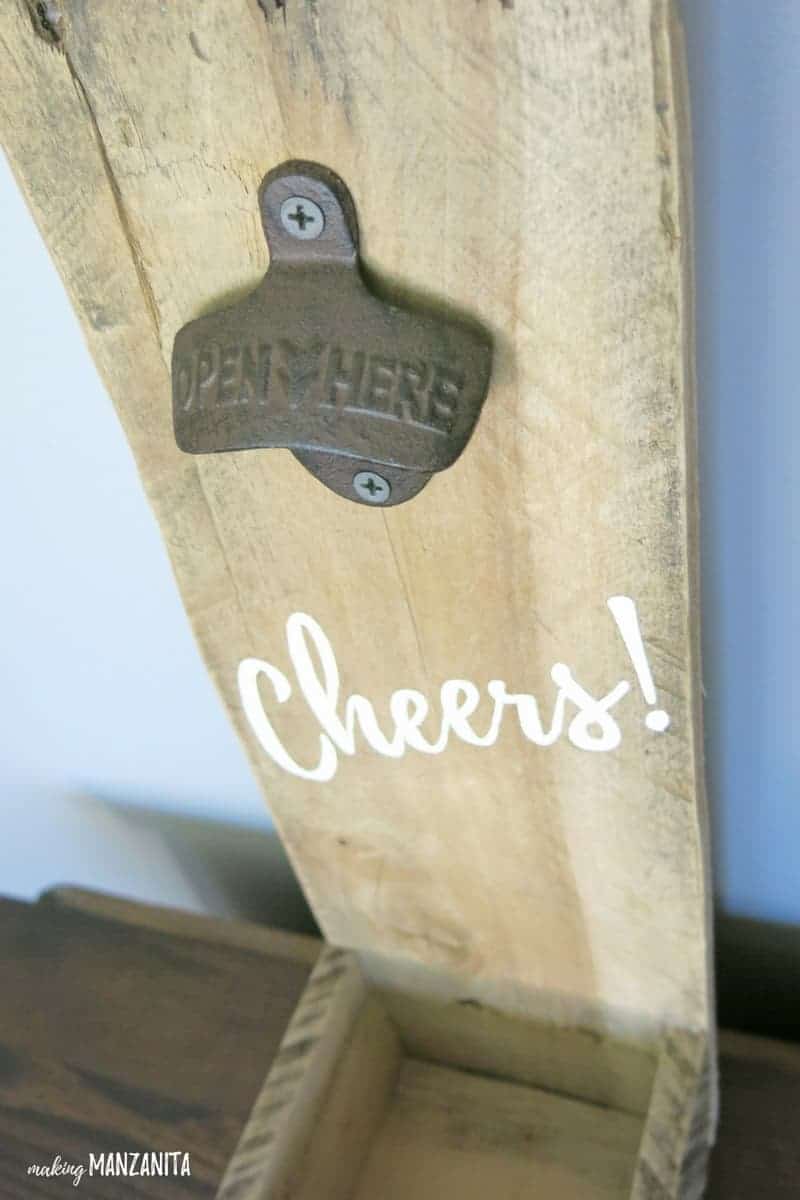 Unoriginal Mom creates adorable wooden coasters – this is a really simple DIY that any beginner can tackle.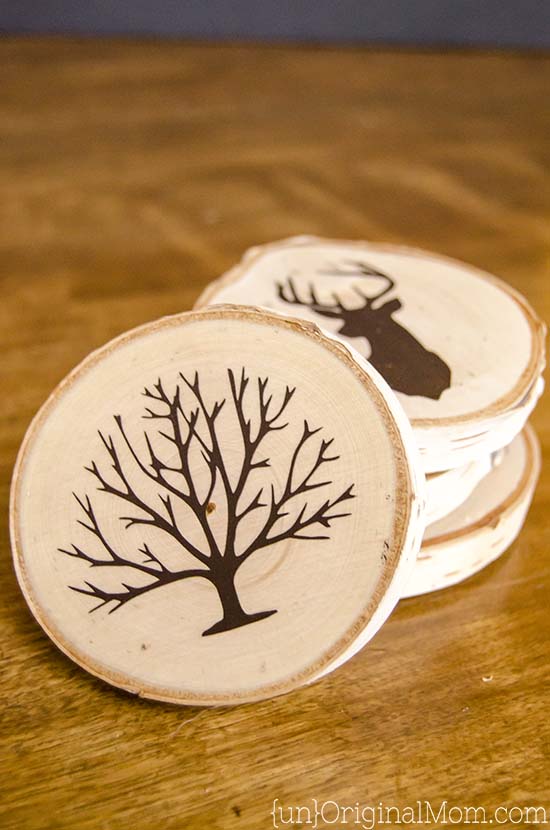 Here are some other projects you'll love
This post may contain affiliate links for your convenience. Please see my disclosure policy here.