Inside: How to make a DIY Wood Wreath with simple tools and supplies; perfect for holiday, winter and all-season decorating! It will hang on a door with a simple hook.
I love simple projects and I love wreaths. Good think making wreaths is often a simple project! LOL Today, I challenged myself to create a gorgeous wreath out of wood – not an easy task, but once I landed on a concept, it came together quite well. This post will show you how to make a DIY Wood Wreath to impress your friends and maybe give as a holiday hostess gift!
If you want to check out some other wreath projects I've done, have a look at my book page wreath, my wood shim wreath, and my latest faux succulent wreath too.
Supplies for a DIY Wood Wreath
*affiliate links
1 1×4 (six foot length)
1 1×2 (if you're building a second smaller wreath)
Tools for a DIY Wood Wreath
In-Depth Steps for making a DIY Wood Wreath
Step One: Measure and cut
The best thing about this project is that it can be done with one piece of wood! In fact, I made it first with a 1×4 and then made a smaller, mini version using a leftover 1×2. You know I'm all about being creative and trying things out, so if you have different sizes and shapes of wood, just try them. I think these basic steps will work.
For the main 1×4 wreath, I measured 12 pieces in total; six measured to 4″ long and six measured to 5″ long. They don't have to be exact, but it's good to get them as close to the same length as possible so the wreath stays together. It's hard to tell from the photo, but the top grouping is smaller than the bottom.
Step Two: Sand and Stain
Ah, the joys of customization! I sanded my blocks really well using a mouse sander. I didn't want any hard edges on my wood and I wanted it to look a little bit scuffed. Then I used my favorite Minwax Stain Wipes to add depth to the pieces. I stained the 5″ pieces in Chestnut and then resanded them. I stained the 4″ pieces with Natural Oak.
I love these stain cloths because there is very little clean-up and the drying time is less than an hour.
Step Three: Assemble your Wreath
This is where you have to be a little bit precise and to be honest, it took me a few tries before I figured out the right configuration so my wreath looked circular and not like an oval. I mean, making a circle with a bunch of rectangles isn't exactly easy! I settled on this configuration, where the 5″ pieces form a loose hexagon. I placed the top three pieces and then the bottom three to mirror them. You'll want to do this on a clear surface like a crafting table because once you get it down, you shouldn't move them until you glue.
Now that the bottom layer is set, use your heavy duty glue gun to affix the smaller 4″ pieces, on an angle, bridging the gap between the 5″ pieces. The photo does a better job at explaining this step. Essentially, you are creating a second hexagon with the smaller pieces that is slightly off-set from the first one so that you can glue the pieces together.
Step Four: Finishing touches
To make sure your wreath can withstand being on a front door, you'll want to reinforce it using a brad nailer. This might seem like overkill, but with the fluctuations in temperature at this time of year, it's better to be safe than sorry. I find extreme cold and extreme heat, or even just really dry air, can cause glue to fail.
The brad nailer will leave very small holes in the wood, if that bothers you, you can fill them with a small scratch pen and they'll disappear.
Then use your glue gun to add some festive flair!
Here are some other DIY holiday wreaths you might like!
Lemon Thistle Blog has a cute boxwood wreath with a handmade wooden sign. This is gorgeous no matter what time of year.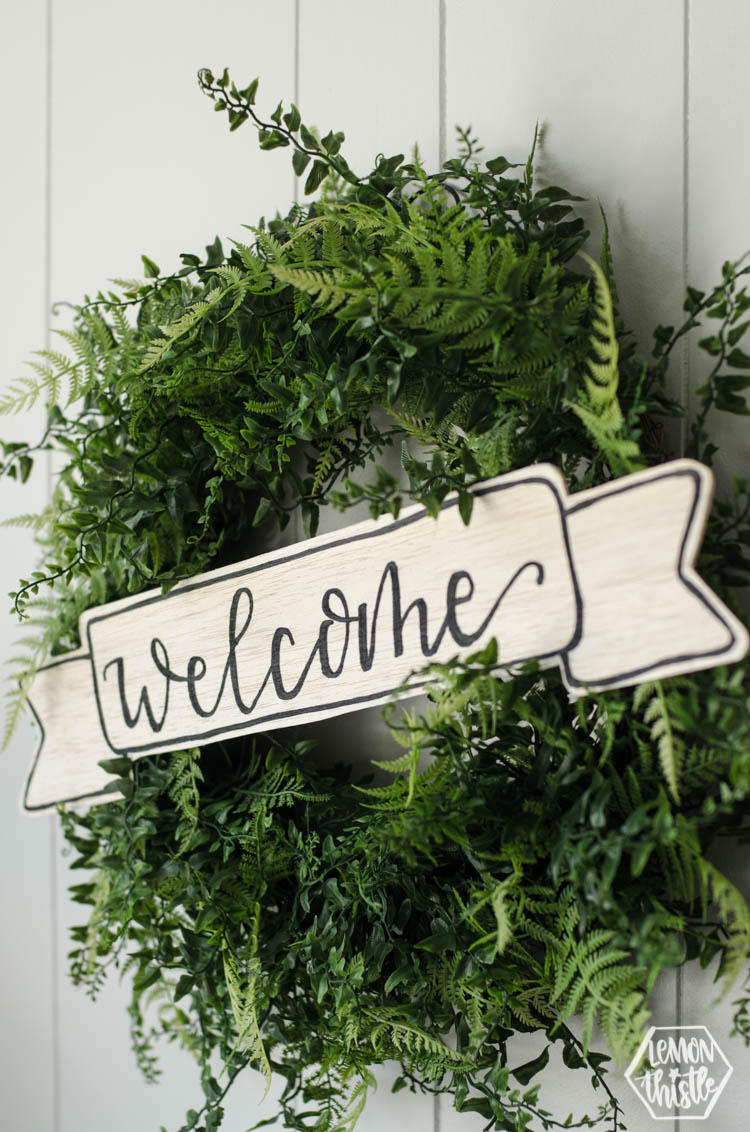 Lydi Out Loud has a combination of wood slices and a wooden embroidery hoop for this fall wreath. It would be cute with the word NOEL too.
Twelve on Main shares her take on a classic wood slice wreath. These rustic beauties won't go out of style any time soon.
Houseful of Handmade has the CUTEST take on a chalkboard wreath! Make it once and customize it for every single season! Now that's smart thinking IMHO.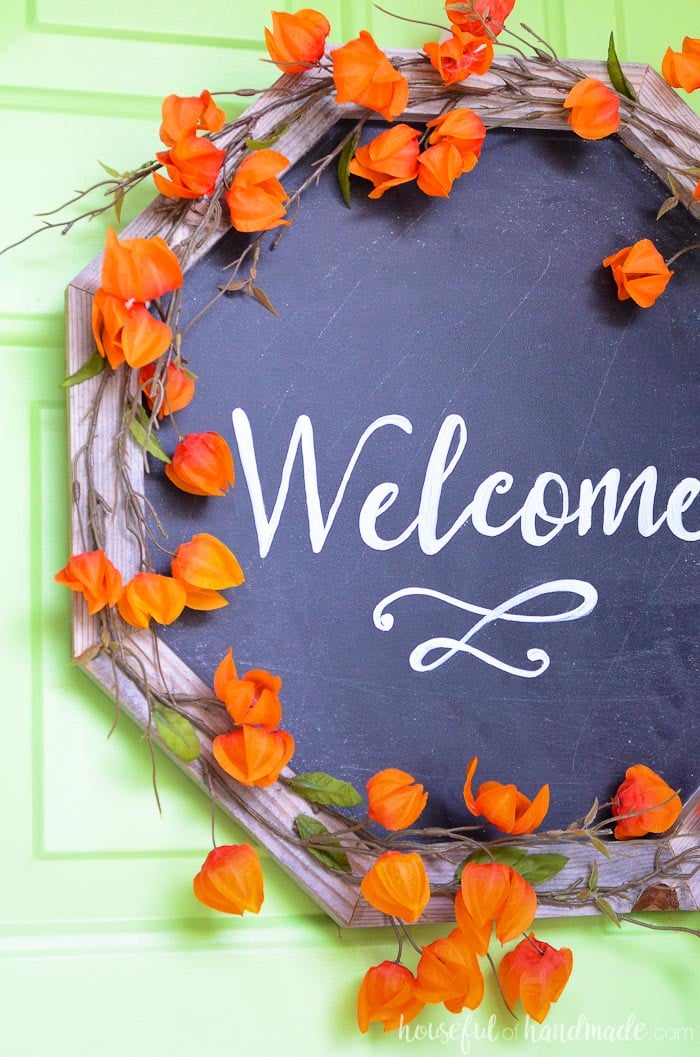 And Crafts By Amanda makes a Valentine's themed wreath using wood shims. The shape of this particular wreath is gorgeous. I love how organic it looks.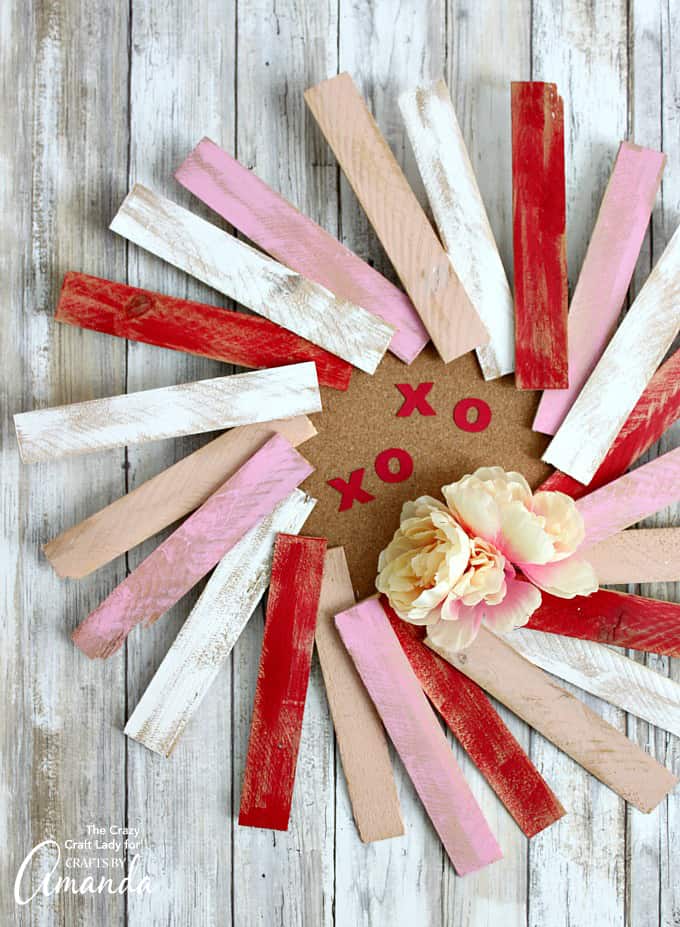 Here are some other winter and holiday posts you'll love
Need more inspiration? Here are some other posts you'll love
This post contains affiliate links for your convenience. See my disclosure policy for more.