Inside: 10 stunning, gorgeous and stylish fall wreaths for the front door! Affordable and simple to do in a few hours; an affordable addition to your fall home decor.
Fall is coming and it's an exciting time to decorate. One of the most festive ways to welcome the season is with a fall wreath on the front door. Wreaths can be expensive to buy at the store (though sometimes that's worth it), but they are also pretty easy to make yourself if you have a bit of time and the right supplies. Today, I'm rounding up some gorgeous DIY Fall Wreaths for the Front Door that you can try.
I've got a couple of wreath projects on my blog that I continue to go to again and again through the seasons – the first is this Book Page Wreath which is the perfect all season wreath! You just swap the ribbon for a new colour and style and it's like new. The second is my Wood Shim and Paper Flower Wreath which could easily be adapted for a front door for fall by swapping out the style and colour of the flowers.
Supplies to make Fall Wreaths
Wreaths don't have to be complicated, but there are a few supplies you'll want to have on hand (or at least consider having) if you're going to go the DIY fall wreath route. For example, a good pair of scissors is an absolute must.
Otherwise here are some things I keep in the house at all times: (affiliate links)
Traditional Style Fall Front Door Wreaths
Traditional wreaths are made of things like grapevine and twigs and typically contain some sort of foliage or leaf motif on them. They are classic and almost always last longer than a season.
A Night Owl Blog has a great example of one here. Hydrangeas are amazing for wreath making for a few reasons; they are super durable to the elements, they come in a wide array of colours, and if you're not in a too hot climate, they are pretty easy to grow! I love how these festive colours are paired with simple burlap for a classic look.
One Mile Home and Style has a different version with crisp greens and it's delightful. This style would be perfect for a late summer into fall front door wreath as it still has some bright white florals to offset the subtle hues of the hydrangea. Note – hydrangea front door wreaths are just stunning!
Rustic Style Fall Front Door Wreaths
Fall is all about rustic and simple. Wreaths that celebrate the harvest always hit a home run. If you're going to make a wreath like this – the objective is less is more and keep it simple.
I love this rustic version of a wreath by Tatertots & Jello. I couldn't love it more. Look around your home for round objects that can be turned into door hangings and wreaths! Get creative! Use things like cake pans and embroidery hoops for your wreath form.
Hawthorne & Maine has an incredible take on rustic wreath making using old cardboard and paper! And it's stunning! This is not unlike a book page wreath, but it goes a step further. Mounting a rustic fall wreath on a back board to create a framed piece of art is a great hack for making a simple wreath seem more grand.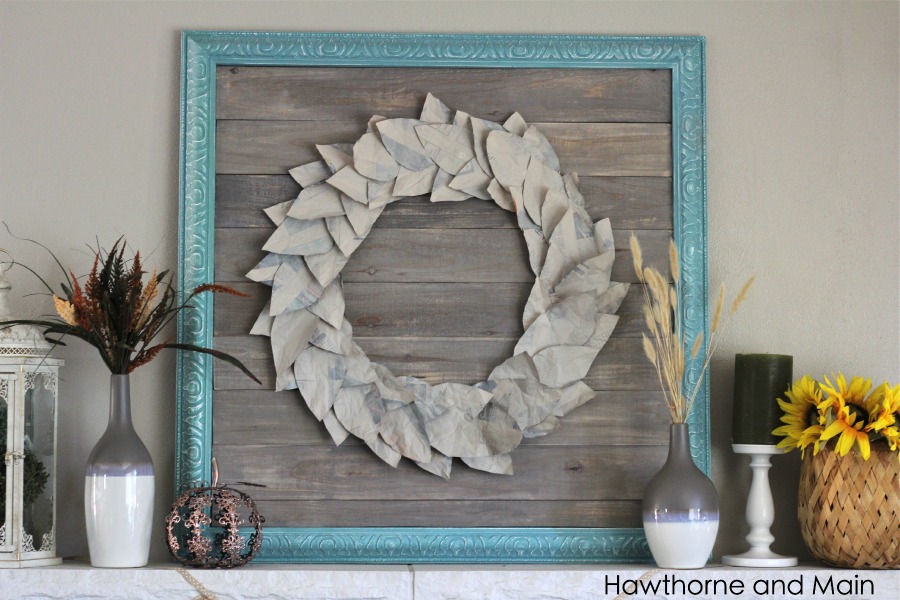 Modern Style Fall Front Door Wreaths
For some people, they want a modern twist on a fall wreath to put on their front door. Perfect for millennial hipsters 😛 These wreaths have simple lines and are often easy to switch up seasonally by changing the foliage. Truly the best way to achieve a modern wreath look is to go beyond the 'circle' and look to other geometric shapes.
Like this hex wreath by Cherished Bliss for example. It's definitely still a wreath, but it's totally modern and cool. I wish I was that cool. 
Persia Lou goes a bit bohemian with her take on a modern fall wreath and adds some tassels and fringe. Not sure this one would make it outside on a front door – maybe if you have a covered porch and a screen door to protect it from the elements? 
Creative Places to Hang Wreaths in the House
Speaking of protecting your wreaths from the elements, you don't only have to hang fall wreaths on the front door! You can also hang wreaths on cabinet doors, bathroom mirrors, the back of open shelving and in doorways.
Think of wreaths like you would garlands – they are nice flourishes that give a nod to the season.
Here are some other posts you'll love
This post uses affiliate links for your convenience. Please see my disclosure and privacy policy here.