Inside: How to make a Hygge Homemade Advent Calendar or Christmas Countdown using scrap materials and Sharpie Paint Pens.
Call them Christmas countdown calendars, advent calendars, holiday calendars – whatever you want – the fact is, I LOVE THEM. I look forward to them each and every year. Last year, I bought one and this year, I decided to make one to fit my Hygge themed decor. Today I'm going to show you how to make a Hygge Homemade Advent Calendar. This is meant to be rustic, have a real homemade feel and be something you can reuse over and over again.
If you're into the whole Hygge thing – have a look at my hygge dining table set up as well as my tips for doing hygge without going overboard.
Supplies for making a Hygge Advent Calendar
*contains affiliate links
Tools for making a Hygge Advent Calendar
In-Depth Process for a Homemade Advent Calendar
Step One: Select your backing board
In my case, I had an old piece of hardwood that I found on my inlaw's property years ago. It has great patina and it looks nice and rustic and scuffed up. I realize you might not have that kind of access, so you can easily buy a few planks from the lumber yard for this. The key is to make sure it's wide enough to fit your advent pieces. Mine is about 13″ wide, which you can achieve with two 1×6 tongue and groove planks placed together. Then all I did was wrap twine around some upholstery tacks that I hammered into the wood at even intervals.
Step Two: Design and Cut Out Your Houses
I had a bunch of left over planking from a wall we recently disassembled in the house. It was already painted white – so I didn't have to paint anything.
If you are working with raw wood, I recommend painting it before cutting out your houses to give it more of a realistic feel. I wasn't picky about the shape of my houses. I wanted each one to look slightly different. So I eyeballed the first one and cut it out.
When I was satisfied, I traced it for the second house and then so on. Eventually, I made a new house shape that was slightly wider and shorter, just to switch it up. Then use a mouse sander to get rid of all the rough edges.
Step Three: Decorate your Houses
This is my favorite part! I used Oil-Based Sharpie Paint Pens in red, gold and black and simply rotated colours and designs for each house until I got to 24! If you have school aged children, this is the perfect afternoon craft for them.
Step Four: Finish your Advent Calendar
To finish things off, I glued each house to a clothespin and clipped them onto the twine on the backer board. You can add little treat bags to the clips for each day, or use this to display greeting and holiday cards. Toss in some festive greenery and you're all finished!
I couldn't decide where to put this in our house. I find the advent calendar is always one of the first things to go up and I move it around all the time. Here I put it in our foyer on the navy wall. I like it, but I sorta feel like it gets lost a bit.
So then, I propped it up on our new fireplace – which has yet to be styled. I do love how it makes the modern fireplace look much more rustic!
Either way, this is one of my favorite new projects this year! What do you think?
More amazing Advent Calendars from other Blogs!
Happiness is Homemade has a great take on an advent calendar using a gumball machine motif. I love how this is simple and very kid-friendly. Imagine a fairy who leaves you gumballs??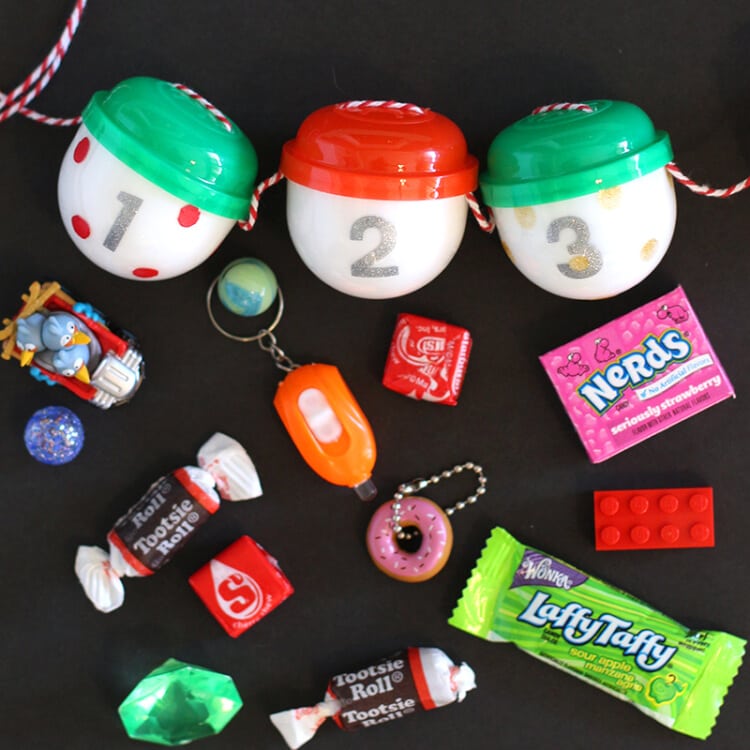 The Make and Do Crew created an adorable Pottery Barn inspired advent calendar using small rustic buckets. This look is great if you're going for that farmhouse feel.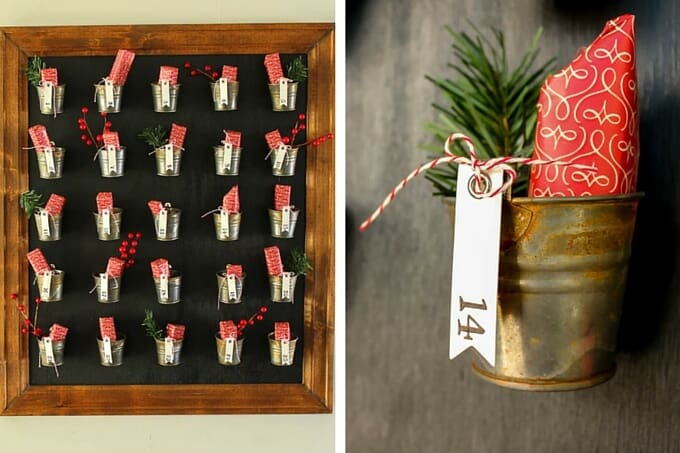 View from the Fridge upcycles an old frame to make her advent calendar. It's very modern looking and I think this could also be done with magnets.
Hawthorne & Main keeps things simple with brown paper and some custom stickers. I love the symmetry and texture of this one on a mantle – don't you?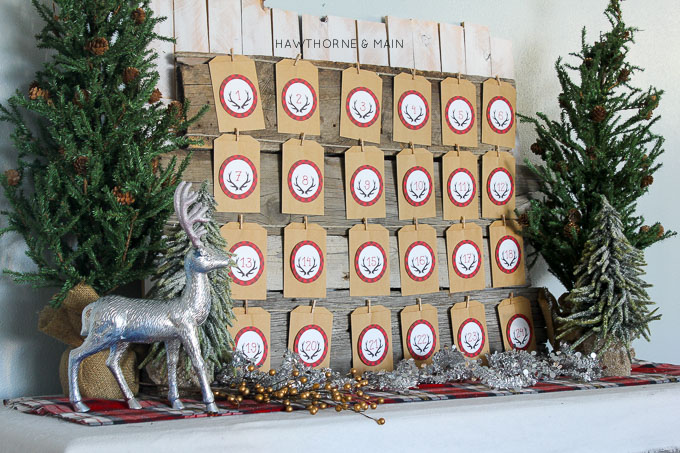 Mod Podge Rocks has a super neat advent calendar idea using boxes from the dollar store. I honestly wish I'd thought of this. It's perfect for small treats and chocolates!
Here are other posts you'll love
Inside: A modern take on a classic family recipe for old fashioned holiday pull apart…
This post contains affiliate links for your convenience. See my full disclosure and privacy policy here.