Inside: An easy handmade Table Runner using fall leaves and chalky-style paint to achieve the results. A unique piece that also uses a drop cloth! Great for a kids' table at Thanksgiving.
Back today with another quick and simple DIY for the holiday season! This DIY Botanical Stamped Table Runner is a perfect solution if you want something fun, custom and you don't want to spend a lot of money! Plus, I've also included a bunch of other gorgeous table runner DIY ideas that you can incorporate in your decor this year.
I've done quite a few fun crafts using chalk style paint if you want to check those out too, including this colourful Thanksgiving table and this amazing upholstered dining buffet revamp where I used chalk style paint and then upholstered the shelving!
Supplies for a DIY Botanical Table Runner
*uses affiliate links
I won't even both with a supply list for this project because it is THAT simple. All you need is a laminated canvas drop cloth (affiliate) I only like laminated because if there is a spill, it won't seep through to the table as fast or at all, scissors, paint and a couple of paint brushes. I'd use the small 1/2 inch craft brushes or smaller if you have them.
How to make a Table Runner from a Drop Cloth
Cut your drop cloth to your desired size. Honestly, I didn't even measure mine, I just laid it on the table and folded it until I felt it was wide enough and made a straight cut. The whole point of this project is for it to be simple and imperfect – so just cut away!
Then head outside and gather some small to medium sized LEAVES! I used some sumac leaves because I loved the long shape of the overall bunches the compound effect of the leaves.
How to Make a Stamp With Leaves
The next step is to use your small craft brush (one for each colour of paint you have) and effectively trace the leaves with your brush. With these smaller leaves, I actually just painted the whole leaf and allowed my brush to 'go outside the lines' to achieve the organic, botanical look I was going for. Warning – your fingers WILL GET MESSY. 🙂
This was the experimentation piece I did before settling on the overall design for the table runner. I did this thinking I'd want to have multiple leaf types and all close together – but when I laid this on my table, it just felt too busy for my brain to handle.
That's why I ended up scaling back the colours to just navy, teal and camo green and only using the sumac leaves.
I LOVE LOVE how it turned out! By the way, I've done some other DIY stamp projects too – check out this DIY Heart Shaped Rubber Stamp I made for Valentine's Day! It took about three hours to dry completely from start to finish, so this is definitely a project that can be started and finished in less than a day.
Hope you have a chance to try this! It's a great project for kids 🙂
Here are some other DIY Table Runners
Hawthorne & Maine has her take on a painted drop cloth table runner and it's so cute! I think I might have to try this for a birthday party of some sort.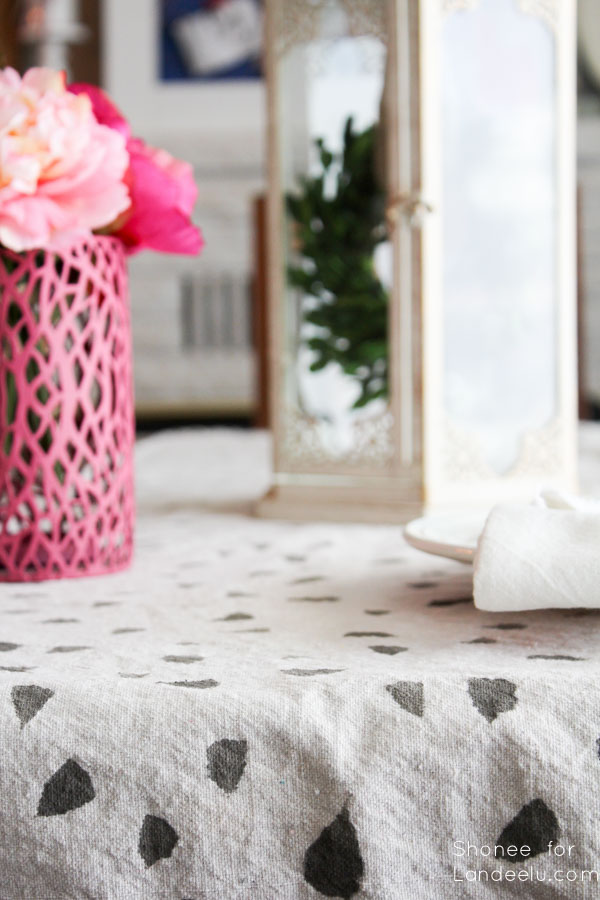 The Blooming Homestead makes a gorgeous table runner out of WOOD! This is calling my name in the biggest way!! I love making seasonal crafts in my shop – so this is now on the to-do list.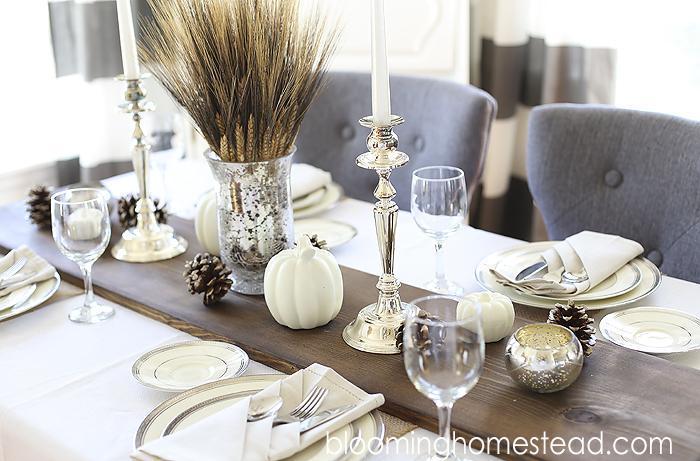 The Happy Housie makes a sweet DIY Table Runner using two different fabrics. Note – this one requires sewing.
The Pinning Mamma jumps on the Monogram trend with this DIY easy Monogrammed table runner. I really like this trend and I hope it never goes away.
Lovely Etc. has a super on trend DIY tutorial for a Shibori Table Runner… this is my obsession! I absolutely love it. Have you ever shibori'd anything??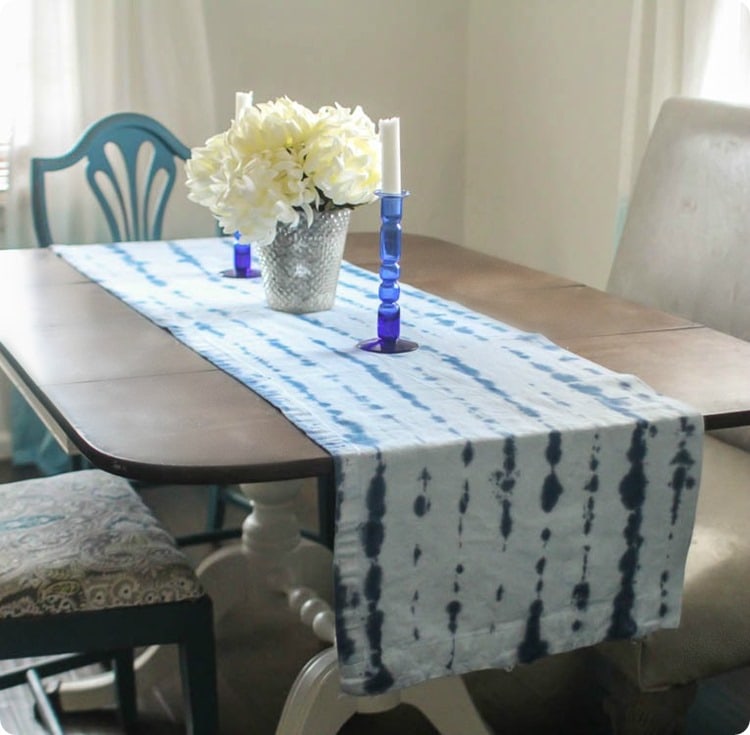 More DIY Botanical Inspired Projects
Pretty Providence has a gorgeous free printable botanical wall hanging. How cute would this be in a bathroom?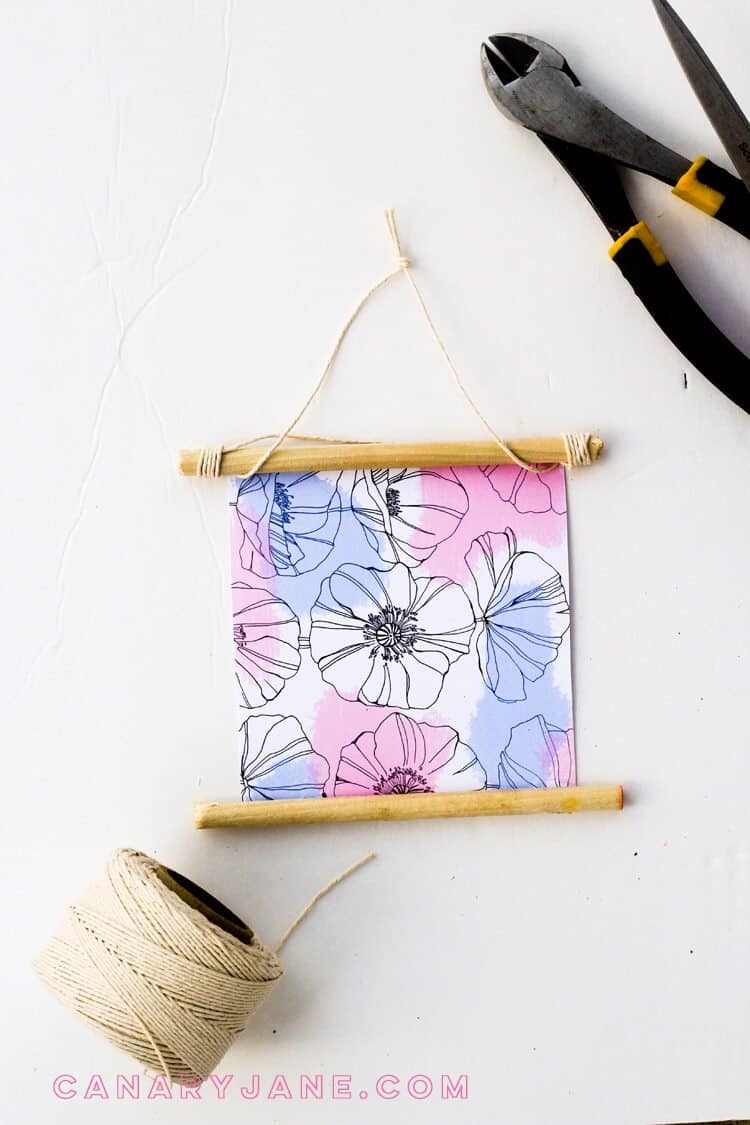 Today's Creative Life has a whole bunch of botanical inspired home decor projects on her blog. I especially love this iron-on transfer tutorial and this tutorial for botanical coasters.
Here are other posts you'll love
This post may contain affiliate links for your convenience. Please see my disclosure policy here.