Inside: How to incorporate Hygge into your Holiday decorating with a DIY Holiday Planter Box; use it as mantel decor or on the floor for true hygge holiday vibes.
I have had this idea for a simple DIY build for Sooooooo long and I'm pumped to finally have it finished to share with you. As you might know, I'm a big fan of Hygge. It's the Scandinavian art of being cozy and it has my whole heart. It is not fussy, simple and full of light and texture – and miniature houses! Today, I'm going to share with you how to make a hygge holiday planter box that can also be used as a gift box or as mantel decor.
If you want to see some other Hygge stuff I've done, check out my Hygge dining room tablescape and my most recent Hygge Inspired Advent Calendar!
Supplies to make a Hygge Holiday Centrepiece
*contains affiliate links
Tools to make a Hygge Holiday Centrepiece
Mitre saw (optional, you can use a hand saw if you'd like)
In-Depth Step by Step to make a Hygge Holiday Centrepiece
Step One: Measure and Cut
There is no two ways about it. Basically you are building a box with a fancy front. I made my box 16″ long and as wide as a 1×6 because that fit small flower pots and worked for my decor. You can make your box as large or as small as you want. The basic principle is that your bottom and back pieces need to be the same size (in my case 1x6x16) and the side pieces need to fit along the edges and be flush with the front (in my case 1x6x5.5). Glue the pieces together one by one and secure them with a couple of nails using a brad nailer. (The small piece in the top right of this photo is left over scrap from my 1×6 – so this project has very little waste!)
The front piece is cut to a 16″ length from a 1×8 with the house motif detailing sketched on top. Don't attach this yet.
Step Two: Cut out the Hygge Houses
Clamp your 1×8 to your workbench and use a jigsaw to cut out the houses. Then attach this board to the front of your box using glue and a brad nailer. Sand the entire box with a palm sander or mouse sander.
Step Three: Paint and Decorate
I wanted to keep my centrepiece looking light and airy, so I chose to paint the box white and then stain the houses different tones using stain wipes. You could easily stain the entire box or paint the entire box – it doesn't really matter.
And then I got all excited and built another one in smaller dimensions. I used the exact same principles, but I swapped the 1×8 and 1×6 for a 1×4 and a 1×6 on the front. I also cut down the length of the second box to about 12″ instead of 16″. For this one, I decorated it in a much more modern way – with grey and white and then blackboard paint accents on the front.
Step Four: Fill and Enjoy!
Fill your box with greenery, candles, gift items to pass on to someone at the holidays. This is the perfect little hygge box that is so easy to make!
Other DIY Planter Box Centrepieces and Mantel Decor from Bloggers
Refresh and Restyle builds a gorgeous rustic planter box that she puts on her table for spring. This is such a clean and hygge look!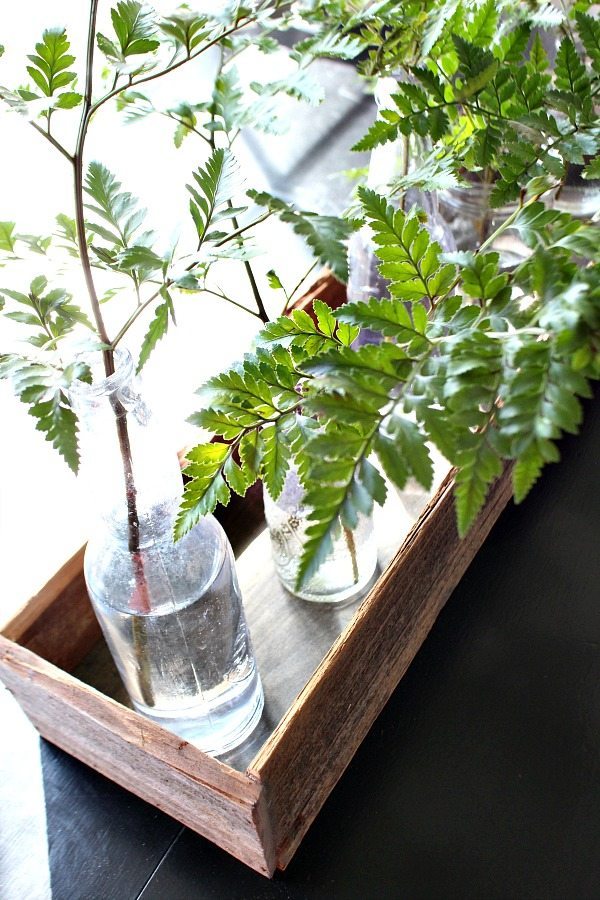 Table and Hearth builds a rustic succulent centrepiece… and you all know I love succulents! This one uses galvanized steel and rope.
Pretty Handy Girl talks about how to build your own trough centrepiece – which is a handy thing to know! 😉
Lemon Thistle shows her version of a trough centrepiece all decked out for the holidays. I love the dark wood stain and the cute white decorations!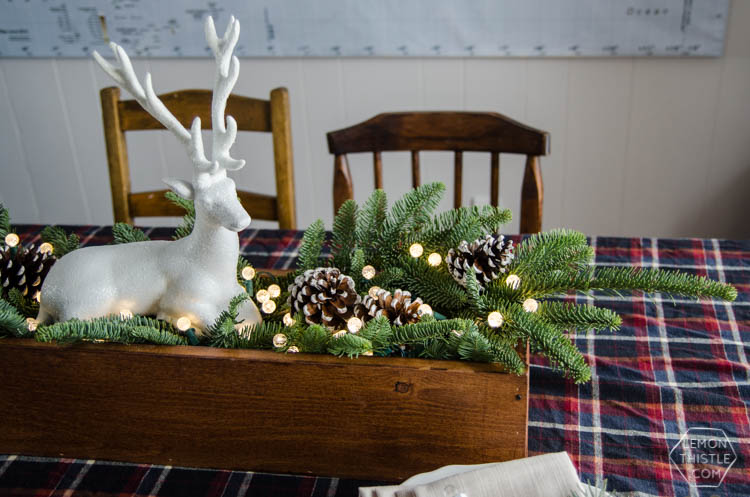 Here are some other holiday decor and gift giving ideas you'll love
Inside: A modern take on a classic family recipe for old fashioned holiday pull apart…