Inside: A full tutorial for how to turn a basic mirror from a big box store into an affordable DIY Rustic Full Length Mirror; plus additional ideas for ways to update mirrors throughout the house.
Mirrors are a great addition to home decor – they bounce light around, add texture and they are also quite useful 🙂 The drawback is the larger they get, the more expensive they get. So today, as part of a DIY Challenge, I'm going to show you how to make a DIY Rustic Full Length Mirror from a basic one bought at a big box store.
If you are into affordable home decor and DIY, you might also want to have a look at our space saving rolling pantry, our super simple and affordable bead board back splash and our hanging wall cabinets.
Here are the supplies you'll need to make your own Rustic Full Length Mirror
*affiliate links
Wood planks long enough to cover the length and width of your mirror
a mirror (obviously!)
It's Dan, by the way, and I'm happy to report that this is my first contribution to the monthly DIY Challenge! This challenge is timely – if you've been following recently you'll know that we've spent quite a bit of time revamping our upstairs hallway and landing. Well, in the earliest stages of this project, we actually removed some built-in shelving that really wasn't serving any purpose. We were left with several planks of wood of various shapes and sizes that we decided to hold onto, for no other reason other than we *might* need them at some point down the road.
This challenge was the perfect opportunity to make use of a few choice planks…We also wanted to do something with one of those standard, plastic-framed full length mirrors we'd had kicking around.  So, an idea was born! We decided we'd reframe the mirror with our own scrap wood to give it a rustic and farmhouse look. 
I dug through our scraps, found some beat-up, white painted planks, and started building. Here are some of the spare boards, the mirror, and adorable Erin.
The mirror doesn't really have anything going for it. It wanted a hug. A hug in the form of a new frame. Here's the finished product!
You can see it is a relatively simple frame, rough around the edges in the best ways. Anyway, the challenge for me was not only using these scraps in a new way, but actually building the frame with mitred corners. So here's what I did:
Step 1 – Measure  and Cut
No surprises here. I was fortunate in that all my boards were the same width, but I knew I was still going to have to measure carefully. In making mitre cuts, you're left with a board that is shorter on one side than the other. I wanted to ensure that the short sides were shorter than the length of the mirror edge that they'd be framed against. I'll explain why shortly.
So, I cut four planks – two of equal measure for the sides, and two for the top and bottom. I used my table saw, and set the mitre gauge to make simple 45 degree cuts. The table saw isn't necessary, a mitre block and handsaw would be fine for this project.
Step 2 – Glue and Screw
This part is easy, made easier thanks to our kreg jig. Simply slap on some carpenters glue, secure with pocket screws, clamp, and allow time to dry.
Step 3 – Mount the Mirror with Mirror Clips
These mirrors are typically framed in cheap plastic, stuck on with glue, and backed with cardboard, so it was just a matter of removing the cardboard and taking a razor blade to the glue that binds the mirrors to the frame.
Now, here's why I cut my boards narrower in step one…the easy way to secure the mirror is simply to turn the new frame over, carefully lay the mirror over the opening, and then add the clips on all sides to keep it in place.
Step 4 – Repeat! (Optional)
Ok, so we had several boards, and another spare mirror, so I actually built another altogether using the exact same steps!  The only difference was the dimensions needed to frame this particular mirror.
We liked the beat up, worn out look of the boards… they give our tidy hall a rustic tinge.
Simple, eh!?
A friendly reminder – because this post is a DIY Challenge, you simply must check out contributions from these other bloggers extraordinaire. They're clever, friendly folk, so really, you'd do no wrong going on a clicking adventure!
If you're looking for other DIY Full Length Mirror Projects – here you go!
Little Red Brick House makes a window paned mirror using supplies from the Dollar Store. 
The Crafty Blog Stalker creates an entire MIRRORED WALL!!
Head over to Designer Trapped to see how one of her contributors made this farmhouse mirror from an old door.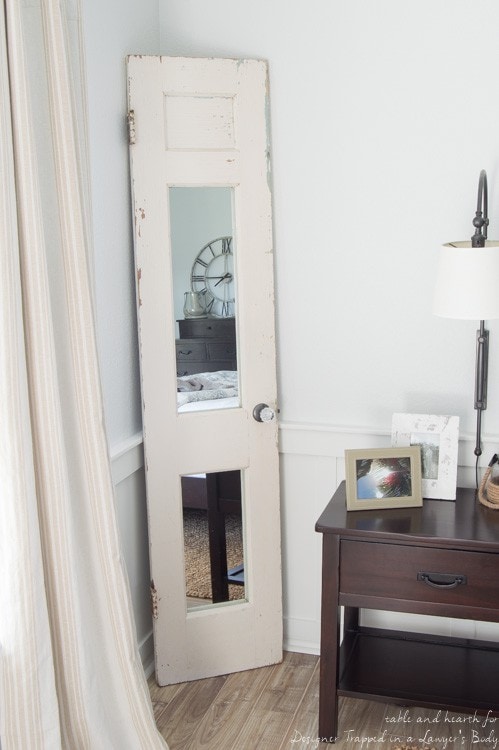 Pretty Providence goes so glam with this incredible gold dipped full length mirror project!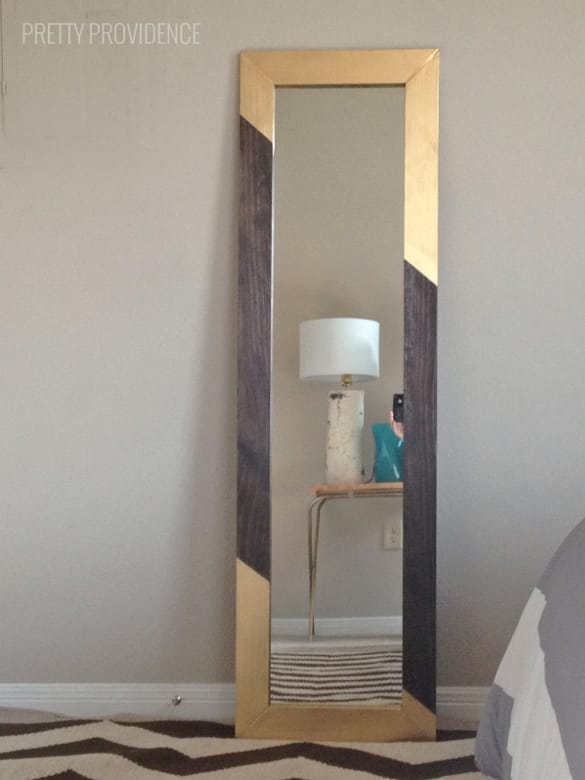 Here are other posts from DIY Passion you'll love
This post may contain affiliate links! See our full disclosure policy here.