I promised Dan we wouldn't do the official One Room Challenge this year. We both looked at what we accomplished last spring in our Master Bedroom, and while it was super fun, but we both found the pressure was too high when it came to participating in the actual challenge event. However, haha! That doesn't mean we aren't going to do a total room makeover this spring! That's right folks, the Playroom/Family Room situation has reached critical mass and the time is now to get this room ripped apart and put back together. So without further ado, here are our plans for a playroom makeover!
I'm going to call this the playroom, but it's really the family room. We spend a butt load of time down here on weekends and evenings. It's where we have the only TV in the house and it's where LB has the majority of her toys.
This is the Project List (I'm trying not to freak out at how long it is)
Empty the room (often an overlooked step! This takes A LOT OF ENERGY!)
Rip up the floors and dispose of the debris
Prep underlay and lay insulated subflooring
Patch and Paint the walls (we have decided to leave the brick wall paper on the window wall which might save some time, plus we still really like it.)
Lay new safe, easy to clean, kid and pet proof flooring
Figure out better kid-friendly toy storage
Set up a little arts and crafts zone for LB
Get a new family-sized sofa
Find a functional coffee table
Source a new family and pet friendly rug
Address the lighting situation (I realize this is vague. I have no plan for lighting yet.)
All the other things we'll have to do that aren't occurring to me now but that will end up tacked onto the bottom of this list 😉
Oh. Em. Gee. I've sorta been burying my head in the sand about this project because, at this stage, I know how much time and effort goes into even a simple one-room makeover like this and it's easy to be overwhelmed. I'm starting to pump myself up though with dreams of easy vacuuming, simple mess clean-ups – generally less stuff.
Let's start with the floors. We are going to be working with Kent Building Supplies on this part of the project, sourcing and installing the RIGHT kind of floor for the space. I'll probably do a full 'shopping' video on the selection and installation process. Here's the thing – not every floor works in every room. You need to think about traffic flow, useability, durability, whether you're below grade or not, warmth and heat retention and all that. I know whatever we end up picking will be a step up from the styrofoam insulation and dusty, unvarnished boards that are there now.
As it stands, I'm leaning towards this new Luxe Plank Flooring with FasTak Install from Armstrong Flooring in the Limed Oak – Chateau Grey Finish. (And seeing this stock photo also makes me want to put it in my laundry room!! haha!)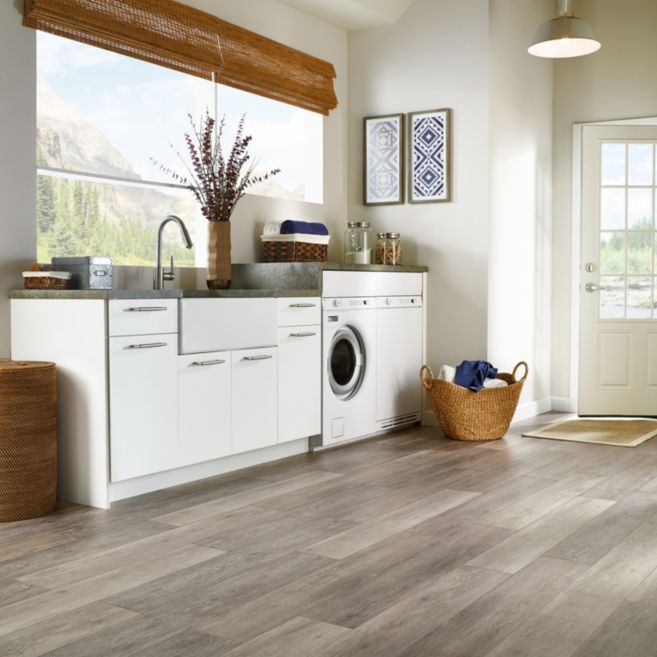 Here's the other thing. Lots of you have written over the years to tell me how much you love our current floors 🙁 What you can't see in my blog photos are the giant splinters, gaps in the boards, full blown holes and dangerous spots where LB can actually get hurt. They look pretty – but not worrying about my baby getting giant slivers while playing is more important to me. It's no longer something I can cover up with a rug. I truly believe we'll be able to capture the same vibe with the new flooring though! So it'll end up as a win-win, I swear.
Here's where my brain is for the rest of the space. I haven't settled on paint colours but I know we'll want a grey or navy couch and a colourful rug. I'd like to move to wall sconces instead of lamps to free up side table space and reduce the chances of 'lamps-knocked-over-syndrome' and we will 100% be focused on simple, inexpensive toy storage solutions.
It's certainly starting to come together, in my head at least! I have a lot of nervous excitement about this space because I just know it's going to be a special family hangout room…and I can't wait for that moment when we all put up our feet, flick on a show, pop some popcorn and chilllllllll 🙂
-E
Here are some other posts you'll love
This post contains affiliate links for your convenience. See my disclosure and privacy policy here.