Inside: A kid-friendly tutorial with small flower pots showing you how to make a DIY Paper Christmas Tree! A great way to use up extra or remnant craft supplies and paper.
It's time for super simple holiday craft. As I was cleaning out our garden room and picking up scraps of wrapping paper, inspiration struck.  I decided to share how to make a DIY Paper Christmas Tree Craft! This is a simple craft that is perfect for the kids… (and busy kid parents)
I absolutely love this craft project and I have a few other easy holiday crafts for you to look at as well – like this DIY Buffalo Plaid Crate (great for gift giving), these monogramed glitter ornaments and these DIY Wooden Trees to hang on the wall.
You might also want to have a look at how I'm storing and organizing my holiday ornaments and our DIY Santa Mail box! It's the newest addition to our holiday traditions and the perfect Elf on a Shelf alternative.
Here's what you'll need to make a DIY Paper Christmas Tree:
You can put a teeny dab of glue on the rim of the pot hole (pot hole?!?) and put your dowel in, but what I found really worked to secure it was to scrunch up brown paper and stuff it into the pot until the dowel was more or less standing straight. Then wrap some twine around the dowel and tie it off.
Assembling your Paper Christmas Tree
Now, once again, eye ball it. Start cutting squares of paper (not perfect squares, I recommend cutting like a four-year old) that are slightly larger than the pot. Vary your patterns and sizes ever so slightly. Then fold them over and create a hole in the middle (ish) of the square and stab it over the dowel. I say middle (ish) because the more imperfect, the more fluffy your tree will be.
Once you've done this about four or five times (depending on the thickness of your paper), and you've offset the corners of the squares to make 'branches', grab your twine and wrap it around your dowel a few times and tie it off. This will give you a base upon which to build your next round of squares – which will be slightly smaller than the first ones. Ya feel?
There you go! Just keep doing that, alternating colours, sizes and middle holes (middle holes?!!?) and when you reach what you think should be the top – add a little metallic square and tie it off with a twine bow.
Just remember to keep them away from open flame.  🙂
Also, this gave me an excuse to use my sweet little reindeer guy. I just love him.
Other DIY Paper Tree Crafts you can do this year
I'm in love with this folded paper tree craft from The Kim Six Fix! How cute would this be as an advent calendar! 
How about a festive spiral cut tree like this one by The Crafty Blog Stalker? It would be so cute in groupings, don't you think? It's a bit like Dr. Seuss. 
Create and Babble makes a stunning paper rose Christmas tree – wow! This is just beautiful and the tutorial makes it look really simple!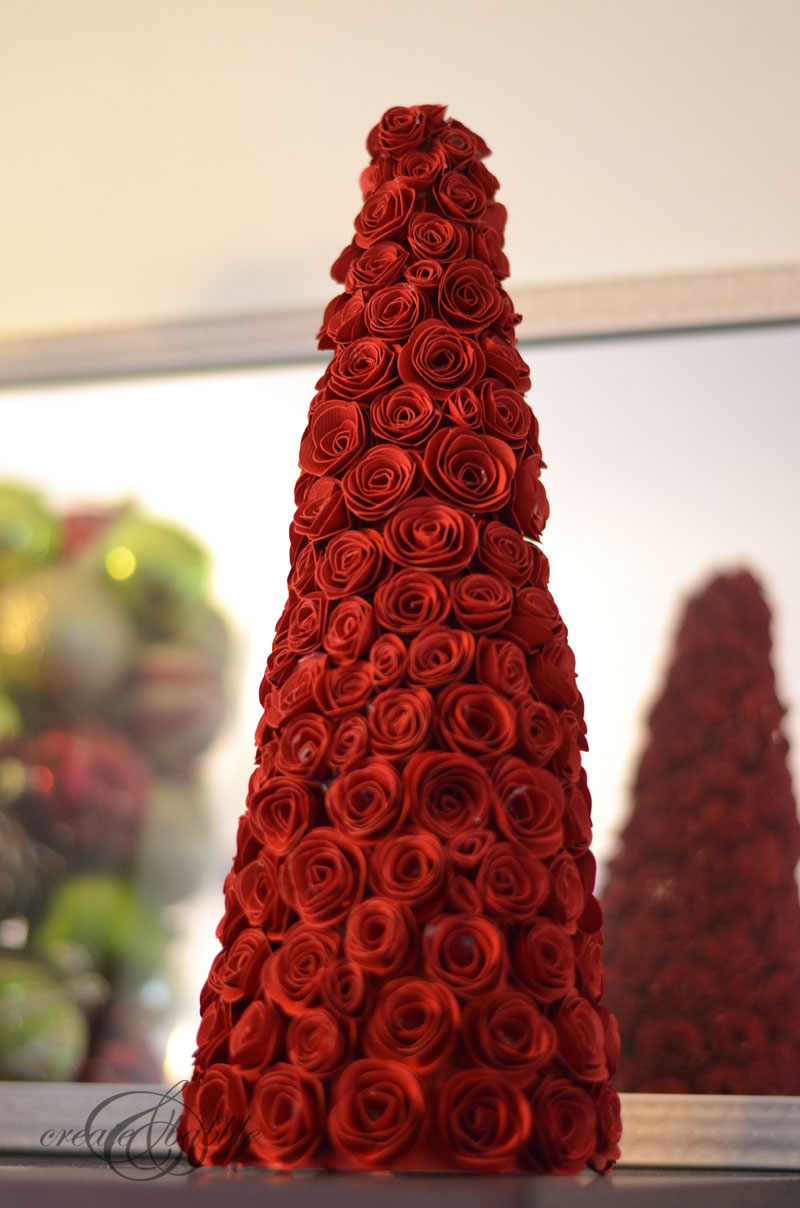 Here are some other posts you might like!
This post contains affiliate links. You can see our full privacy and disclosure policy here.