Inside: How to make a DIY Wood Wall from an old fence, as well as other ideas for using fence boards and interior wood plank walls.
I must admit I never thought this is a post that I would be writing, but ever since we shared our basement barn board flooring project I've been getting questions about our reclaimed wood wall in the space. So I figured I could share with you today how to make a DIY Wood Wall from an Old Fence. I love that this project is super affordable and eco-friendly.
If you are into upcycling and reclaimed stuff, you might want to check out my cool reclaimed wood photo board, how to strip veneer off old furniture to make it new again and you might also be interested to see how I turned old fence posts into candle sticks!
How to make a DIY Wood Wall from an old Fence
There is a little bit of the backstory to this project. It begins in our backyard that was once a jungle. It still feels somewhat like a jungle. Taking down this random fence in the middle of the yard was step one to bringing it back to life. But being the DIYers that we are, we didn't want the wood to go to waste.
Step One – Wash All the Old Fence Boards
The first step was to pull it down and give the boards a good wash. There was a fair amount of green slime all over the boards, but some oxygen bleach along with soap and water and elbow grease did the trick. I use oxygen bleach for cleaning throughout the house. I absolutely love it for the laundry and for getting rid of pests in the kitchen. It's also extremely gently and effective on wood.
Step Two – Sand Down the Fence Boards
We knew there was no way that we were ever going to sand them down to match, so instead we set to sanding them to make them all different. Dan lay the boards down on the floor, and gave them all a good once over with the belt sander.
Then he passed them off to me for some finer work with a palm sander. Make sure you're wearing a mask and in a well-ventilated area when doing this, especially if working with weather treated wood like we were – this does create a big mess.
Step Three – Stain the Boards to Match
Because our fence posts were weather treated they had an awful green hue. To combat that we used mixtures of different gel stains to give each board a unique finish.
I love working with gel stain. Apply it with a brush and then wipe it off with a rag.
Now for the fun part. Putting the boards on the wall! We were working with a really small space; a strange nook created in the basement beneath ductwork and above some piping. The good news is all of our boards were roughly the same length.
Step Four – Cut down the Boards and attach them to the wall
We started with our prettiest and longest board, found level, applied a small amount of glue to the back and nailed in at the studs. We continue down the wall using the prettiest boards first. Then all we had to do was cut down the remaining boards to fill in any gaps.
See? I told you this is one of the best ways make a DIY Wood Wall!!
Here's what it looks like now…
As you can see, the rustic fence board wall seems to really enhance our developing space. And did I mention it was free? Oh ya. It was free. 😛
Other rooms where we've done DIY Wood Walls
You'll definitely want to have a look at our Living Room 'nook' area. We used basic tongue and groove planks to modernize a 1980's style television nook and we love it.
We also used barn board to create the most gorgeous DIY Wood Wall in our dining room. It's one of my favorite projects ever. Every time we do a wood wall, I get happy. They all follow the same basic principles – clean, stain or paint, cut, measure, secure/hang. That's it!
Want to see some other DIY Wood Wall Features?
Twelve on Main uses untreated barn board on her walls. And the result is gorgeous.
DIY Beautify installs a wood wall around a doorway to give it a grand and rustic feel. This is gorgeous!
Diva of DIY uses an actual set of pallets to create a wood feature wall for free! That's what I like to see!
And Designer Trapped creates an epic herringbone wall pattern with her old fence boards. This is the project that inspired mine!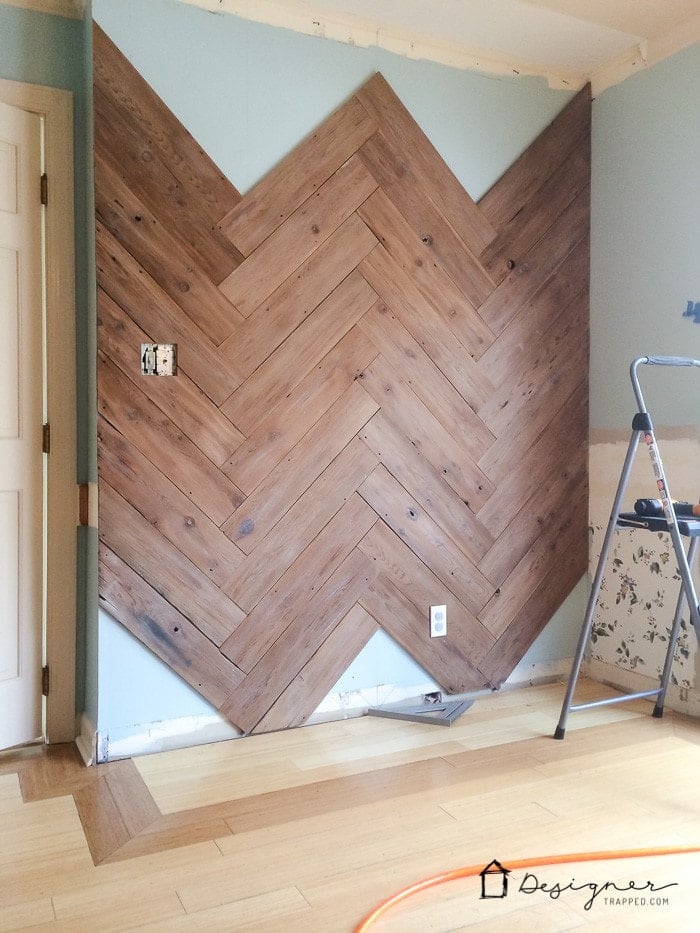 And some additional DIY Projects using Reclaimed Fence Boards and Wood?
Check out my cute Thanksgiving candle sticks using old fence posts. I was in a challenge to create table decor for free – and this is all I had! So I used basic DIY supplies to make candle sticks. I might do it differently if I were to do these now, but the principle is okay, I think.
And here I used reclaimed wood shims to make a herringbone back splash accent in our kitchen! This project cost me less than $2! And it's been in our kitchen for five years.
Check out some of my other posts