Inside: How to turn a glass bottle into a lamp using a carbide tip drill bit; plus how to wire a DIY lamp.
K – Seriously, where did April go? It's hard to believe it's time for another DIY Challenge! In May, all of us bloggers were challenged to turn Trash To Treasure. There are some amazing transformations in all the links at the end of this post – so as always, lots of encouragement to visit them all! My contribution to this month's challenge involves turning a broken lamp and a milk bottle ...essentially I'm going to show you How to turn a glass bottle into a lamp!
I've done quite a few lighting projects that you might want to check out including rescuing these yard sale lamps with spray paint. And I've written all about my favourite lamps from IKEA as well. If you're into season stuff, check out my DIY hanging ornament chandelier too.
Supplies to turn a bottle into a lamp
*affiliate links*
How to turn a bottle into a lamp
Here's the back story. This little blue lamp was supposed to be part of our blog office. But when the renovations were happening and the upstairs was crazy messy and all out of sorts, one of the kitties (I honestly don't know which one) knocked it over and smashed it.
Being the looney that I am, I kept the pieces in a bin (Looney bin?) Once again, I can't explain why I kept something that was literally in pieces. But I knew the actual lamp mechanism was fine. (This is why I didn't actually use a lamp kit, but the chances of you having and keeping a broken lamp are slim…so use a kit..)
I had a couple of milk bottles lying around on my storage shelves in the basement and I instantly knew  one of them would make the cutest new lamp base.
Step one: Gathering the parts
First up, with my screw driver, I freed the lamp piece from the broken ceramic bits. In fact, I took it apart entirely. Now came the scary part! I had to make a hole in the glass so I could pass the lamp cord through it.
I researched and researched and researched. Praise Goodness for You Tube!
Using a Carbide Drill Bit on a Glass Bottle
Step Two: Drilling the holes.
In the end, I bought a 5/16 Carbide-Tip Glass & Tile Drill Bit for $10. Dan had to help me with this part because when you're drilling through glass, the most important things are a) to go really slow and steady and b) to keep the drill tip lubricated with cool water.
We rigged up quite the set-up to get this done. Both of us put on safety goggles and we lined our giant roasting pan with a thick towel and put the milk bottle in there. We were lucky because the bottle has flat edges, so it stayed. If you're doing a wine bottle or something round, you'll probably need to couch it between two blocks of wood to stop it from rolling around on you.
We marked basically where we wanted the hole with tape and started a little wee mark with the drill to guide us.
Then as Dan drilled, applying next to no pressure, I poured water over the moving bit. I had to fill our measuring cup about 6 times and we dumped the water from the roasting pan once during the process.
As the drill is going, you can see the water kind of turn white-ish. That's the glass particles being scraped away by the carbide bit. (Sorry no pics of this because we both had our hands full!)
Anyway – after about 10 minutes of slow and steady drilling, we had a hole! It really wasn't that scary. It was actually more tedious than scary!
Step Three: Assemble the lamp
Then I went back to my broken lamp bit. I disassembled the socket and memorized exactly how it all went together. You'll notice on basic lamp cords there's a wire with ridges and a smooth wire. The ridged one typically attaches to the gold or brass screw. But don't take my word for it, I'm no electrician. If you're not familiar with wiring, consult someone who is before attempting to do something like this 🙂
Then I rolled up some medium grit sand paper and stuck it into the hole in my milk bottle just to make sure there weren't any jagged edges that could pierce my wire. 
From here, I strung my lamp cord through the hole in the bottle and out the top and then reassembled the socket. Easy peasy!
It was a bit wobbly, so I used a few dabs of hot glue to hold it in place and while I was at it, I added burlap to the bottle. Then I stuck on my lamp shade and called it a day!
I turned it on just to show you that it actually works 😉 though I recognize that photos of lit lamps in the daylight don't look very good. 
Other DIY Lamp Tutorials
Mod Podge Rocks makes DIY Votive Mason Jar Lamps and these are so flipping cute I want to put them all over my house!
Nellie Bellie makes an ultra-modern looking DIY tube light. I don't think I've ever seen anything like this and it's really on trend. Quite spectacular if you ask me.
If you aren't into the DIY lamp thing and just want to update an existing glass lamp base, Place of My Taste has an amazingly simple method for you to try.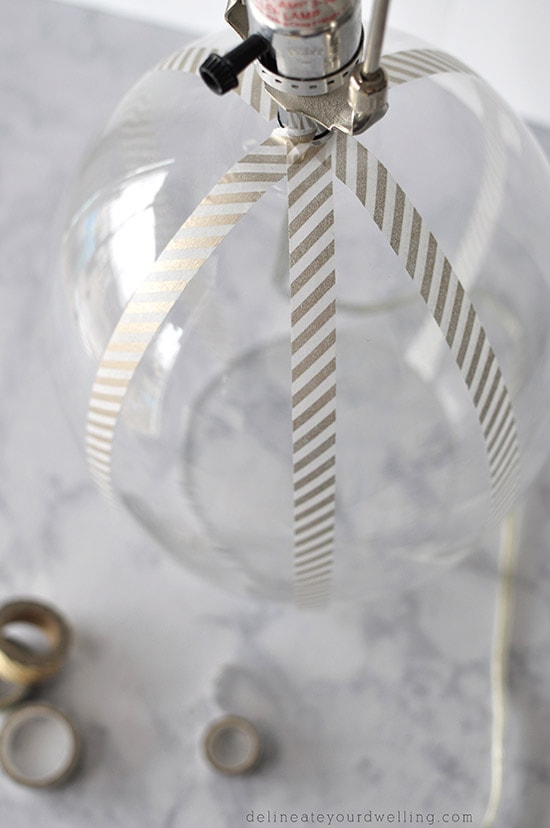 My Repurposed Life has the cutest little tutorial where she makes TEA CUPS into lights!! Can you imagine this in a cottage or lake house?! How sweet is this??
Lovely Etc. goes beachy (which I adore) and creates a beautiful sea glass lamp motif. This is also so on trend…!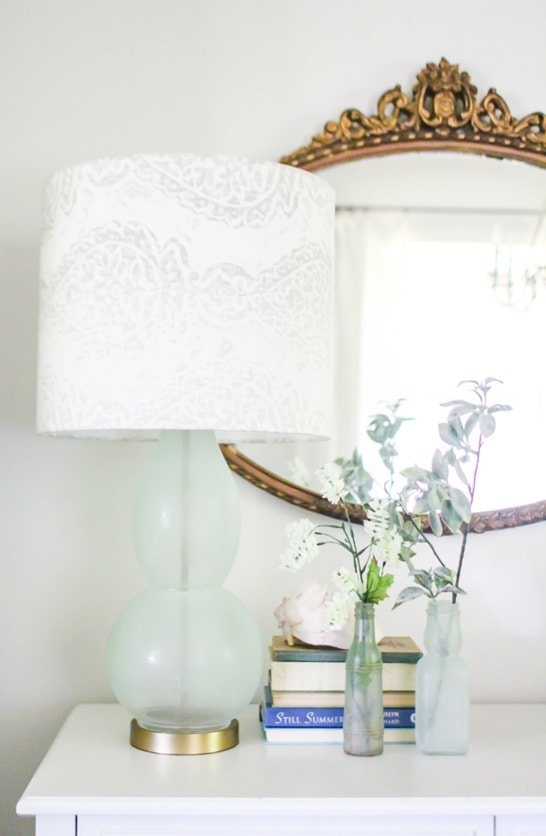 And since THIS post was a DIY Challenge – make sure you check out all these other links by my girlfriend bloggesses!! They are all pretty much my besties…so please show their Trash to Treasure links some love!
Here are some other posts you might like!
This post contains affiliate links. For our full privacy and disclosure policy is here.