Inside: The quickest, easiest holiday themed miniature fairy garden! Using craft supplies and faux greenery, this project will bring a little extra hygge into your decor.
It's the most wonderful time of year for fairies – don't you think? When I was a child, I was captivated by the idea of fairies. Small winged creatures who lived in the forests and gardens and who were tricky and had magic – the concept is so whimsical. Some say Santa Claus himself is a fairy – so I thought it was only fitting to kick off this Holiday Season with a tutorial for how to Make a Holiday Themed Miniature Fairy Garden!
This is a super simple project that requires no tools and takes 15 minutes max. It's also the perfect project to do with your kids! If you're looking for some other whimsical holiday ideas, check out my DIY Santa Mailbox and my Ornament Chandelier. They are both favorites around here.
Supplies for a Holiday Themed Miniature Fairy Garden
*affiliate links
How to assemble a miniature fairy garden
Full disclosure, I used to have living plants in this pot and almost all of them died. So I transferred the living ones to a smaller bowl and decided to use faux greens in this pot until the spring when I'll be able to bring something new into the house. I guess what I'm saying is that a fairy garden is a great way to bridge the gap from the fall to the spring with faux greens! Don't believe me? Even Country Living says the fairy garden trend is taking over Pinterest. Not only that, but apparently miniature gardening is an actual thing too?
I started by filling my pot with basic potting soil. In reality, this leaves you the option of mixing real plants with the faux plants if you want.
Then I stuck in my faux greens…I wanted to fill out the pot and make it appear a little more lush. I used wreath decor to do it, but this is where you could use a real fern or pothos or something a bit wide and low in your bowl. Like I said, I might still swap these out.
Then you just want to layer in your bottle brush trees! I have six of them in three different sizes and I just scattered them about. Don't forget Santa and his candy canes! And finally the twinkle lights.
I didn't want to bury the battery pack in the soil, so I draped the lights and just tucked the pack behind the pot. For now, I think this fairy garden will live in the kitchen – it's so cute!
Have you ever made a fairy garden?
Other Blogger Miniature Fairy Gardens
The Cottage at the Cross Roads has the cutest little summer themed fairy garden in a red wagon!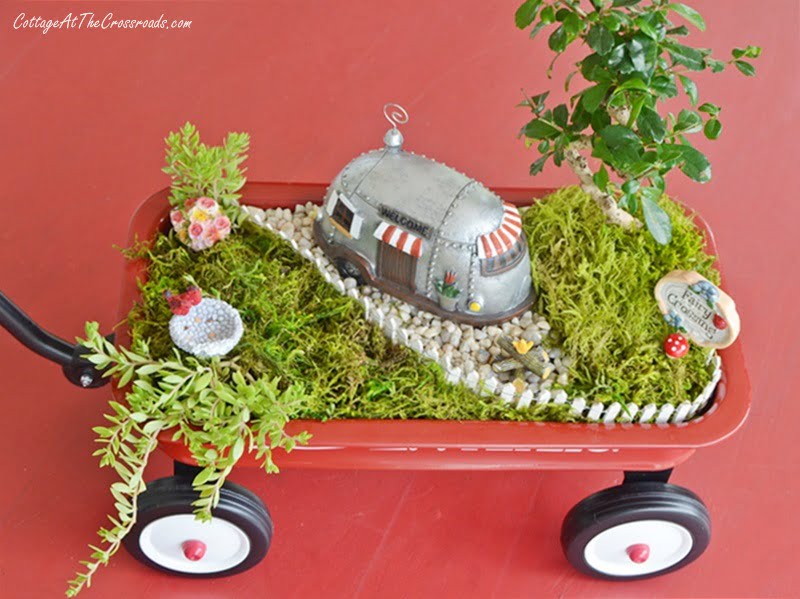 Mod Podge Rocks has a Fairy Garden in four steps – and this one includes toadstools!!
Crafts by Amanda turns an outdoor planter into a fairy paradise. I really love this one. I wish I could grow plants.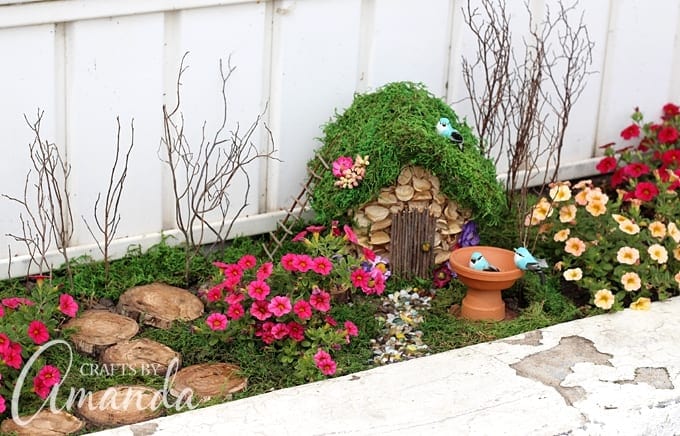 Same with Happiness is Homemade – she brings in her children to turn a wood crate into the cutest little village for fairies. It has succulents!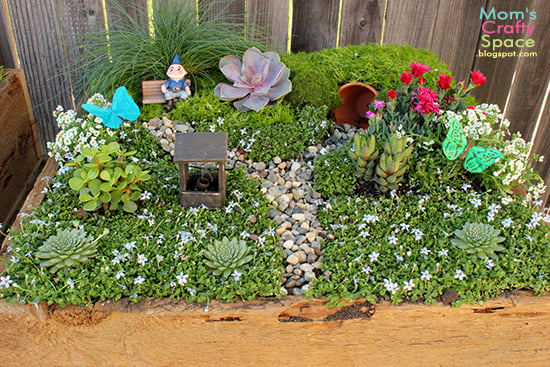 Tater Tots and Jello makes her fairy a fall garden complete with pinecones and leaves and she does it IN A PUMPKIN!!
Here are some other posts you'll love
This post may contain affiliate links for your convenience. See my disclosure policy here.