Inside: I show you how to make adorable DIY Kids Wall Hooks for a playroom using one of my favourite tools, a Kreg Jig, plus cute 3D house ornaments.
I'm thrilled today to be partnering with one of my FAVORITE DIY tools – Kreg Jig – as a sponsor for the September Monthly DIY Challenge. We've had our jig for a couple of years, and while it's a bit of a learning curve, once you practice a bit, it's INCREDIBLY rewarding. Today, I'm sharing how I made these colourful, playful DIY Kids Wall hooks using a Kreg Jig!
While you're here, you might also want to have a look at my other playroom and kid-friendly projects, like my toddler busy board, and our recently made over family room/playroom in the basement.
Why I love doing Kreg Jig Projects
This was the first time I really used the Kreg Jig on my own. I'd helped Dan when we built our West Elm inspired Day Bed, but I'd never really just picked it up and used it all by myself before this project. Honestly, the Kreg Jig can be a bit intimidating, but once you get the hang of it – it's awesome. It basically let's you create really solid joinery using screws and pocket holes. It makes building furniture, especially shelving, an absolute breeze. I've also built these SUPER COOL outdoor lanterns that have survived two summers and the elements on the deck!
There are a couple other products made by Kreg Tools that I have my eye on – I'm especially enamoured with the Rip-Cut which is designed to help make long cuts without the need for a table saw!!
Here are the supplies I used to make my DIY Kids Wall Hooks:
*affiliate links
1×8 pine boards cut to length (up to you how long you want them!)
Kreg Jig Screws (I used 1 1/4 inch screws)
Hand saw or circular saw
Craft Wood Houses (I got mine at Dollarama in Canada, they might also be available on Etsy)
Craft Paint in various colours
Hanging Hardware
The first step to building your wall hooks is to identify how long you want your shelf and to use a hand saw or circular saw to cut your boards to size. Mine are about 22.5″ long because the spot I'm planning to hang them is only about 25″ wide. (Otherwise, I would have opted for an even two-feet!)
Then measure out the placement of your hooks. I waffled on this a bit and ended up with one in the centre and the outer ones about 4″ from each edge.
Using a large drill bit, create three holes for your hooks. Cut three 3″ pieces of dowel and make sure they fit snugly into the holes in the wood. But don't put them in or secure them yet.
Next step – line up your boards and figure out where to put your pocket holes for screws. The best placement in this case is to have screws at least every 6-inches. I opted to put four pocket holes into my shelf to make sure it's good and strong.
Here's how – line up the foundation boards and figure out where you want to align your Kreg Jig.
Then clamp down your wood with a Face Clamp and using the Kreg Jig and drill bit to create your pocket holes. Before doing this, you want to make sure your jig is set correctly for the project you are doing. The top part should reflect the thickness of your wood (in my case 3/4″) and the long flat part of the jig should reflect the length of screw you are using (in my case 1 1/4″).
Line the two pieces of wood back up and use the drill with the Kreg Jig bit to create the pocket hole. Move your wood to the next position and do it again.
Once your holes are made, you can sand lightly and then drill your screws into the pocket holes to firmly attach both pieces of wood together.
Then I went ahead and stained my shelf with Minwax Stain Cloths in Natural Oak – because it's my absolute favorite stain hue (in case you hadn't noticed lol). NOW you can go ahead and add your dowels into the large holes to make the hooks! I used wood glue to give them extra hold.
Then I used some scrapbooking paper and colourful acrylic paint to dress up my wooden houses!
The last step is to add some strong D-ring hangers to the back of the shelf and use a bit more wood glue to secure the houses to the top of the shelf.
I LOVE the way this turned out! You might notice I have it set up in my studio at the moment. Reason being, I found the cutest little art table at a yard sale last weekend and I'd like to hang the hooks above it in the playroom. I want to make sure we get the layout of the room right before putting any more holes in the walls in there 🙂 LB is a bit too little for dress up at this point, but soon enough!
There's so much to be excited about today. Not only do I love this simple project using my Kreg Jig – BUT, it's a Monthly DIY Challenge, which means you have TWELVE other Kreg Jig projects to inspire you (ranging from simple to complex) AND because Kreg Jig is sponsoring this month's post – there's a giveaway that you can enter below. Good luck!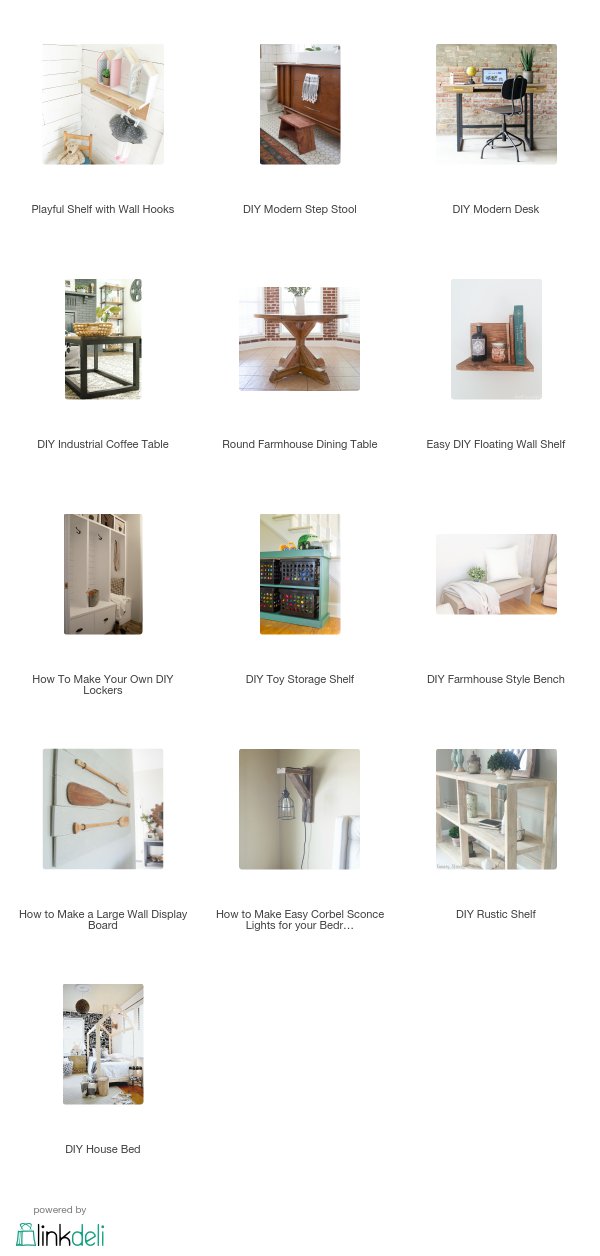 Here are other posts you'll love
This post is sponsored by Kreg Jig. All opinions expressed are my own! We appreciate our sponsors because they allow us to keep creating fabulous, free content for you! This post may also contain affiliate links for your convenience. See see our disclosure and privacy policy here.