Inside: When you can't change the countertop, distract from it! This renter-friendly DIY shows you how to disguise an ugly bathroom countertop using colour and paint.
This project. OMG. It's in a room we have never talked about on the blog before. That we're being sponsored by Royal Design Studio to make this challenge a reality. This bathroom has been my least favourite room in the house forever. I'm not in the mood or financial position to gut it and start again, so slowly, I'm adding easy DIY projects to make it nicer and more liveable. Today, I'm going to share my renter-friendly DIY to disguise an ugly bathroom countertop.
While you're here, you might want to check out some of the other bathroom decor inspiration I have including our tiny power room reveal, and my recent 10-minute countertop organization blitz.
The Before – The Ugly Bathroom Countertop
We are heading to the master bathroom, people!! It's a space we've never talked about on the blog before! Okay, so the reason we've never shown you this room before is because it was perfectly functional, but perfectly fugly. I think that's a thing, right?

Out-dated pine board wainscoting (which I hated cleaning), equally drab counters, plain builder's mirror, an aluminum sink (don't even get me started), and no real place to hang even a hand towel rack.
The Plan to Disguise the Countertop
We do have plans to gut this WHOLE room down the line… but with baby DIY on the way, we're pinching pennies and going for something fresh, functional and 'just purdy' for now.
My goals for the bathroom:
Freshen and 'clean' it up
Someone who shall not be named took it upon himself to inspect our attic space last Fall and in doing that, accidentally covered our bathroom vents up for a couple of months without us realizing it. We figured something was wrong when the bathroom didn't de-fog and gross spots formed on the walls. It's clear now and all fixed, but the bathroom now needs all new paint.
Disguise the brown countertop
I went back and forth on this FOREVER. Replacing them isn't THAT expensive. But I want to gut the space and spend as little as possible before the baby arrives. So disguising the ugly was the next best thing.
Disguise the oatmeal ceramic floors
They are alright. Easy to clean, just not my pick in the style department.
Bring in some more storage
Ummm…isn't that always my goal? I am going to do this by adding in a new medicine cabinet from Ikea and cleaning out the cabinet below the sink. If you want to check out how I declutter spaces, you should see how I used Konmari on my jewelry and accessories. I plan to use the same method in here.
Where did we start? Well – with a fresh coat of primer and brilliant white paint. I say we. I'm lying. Dan did this part. We used stain and mould blocking oil-based primer, which is great, but super stinky and a no-go for preggo DIYers. I sat on the couch with Buddy and ate bonbons while Dan worked 😉
Not true! I actually spent some serious time agonizing over which stencil to pick. These were my top three:
After going back and forth for a long time, I chose this Weave Allover Wall Stencil because I immediately thought of sea glass when I saw it. (Hint! They also have it for furniture and a smaller crafting size!)
I know it's actually a retro-modern design, but something told me if I used a few different 'coastal' shades, I could get a really cool look for my bathroom.
How to use a Stencil in a Bathroom
I used four shades of paint – two in the more brown/neutral category and two more that are definitely more blue/grey/green. I had four stencilling brushes on hand which worked out perfectly. It's actually quite important to use the right kind of brush or roller for this type of thing to make sure your paint doesn't bleed under the stencil and you get a nice crisp line.
I slowly worked my way around the mirror wall in the bathroom. There really isn't that much wall space in here, so the job went really quickly, even though I was using a few different colours.
How to use a wall stencil with different colours
I made sure to wipe down the back of my stencil before repositioning it. To do that, I just used simple painters tape and a level.
Dan took down the light fixture for me so I could do the top of the wall. (Don't worry, he was spotting me while I was up on the ladder!) And then he took over to help me reach the corner.
The last step for this phase of our master bath refresh was to take care of our terrible no-storage problem. I did you the service of clearing all our face washes, aftershaves, contact lens solution blah blah ALL THE THINGS from the counter before taking our before shots – but on any given day, this counter is full of our ablutions supplies … no matter what I do. I guess it's just not in our nature to put them in the cupboard below. I'd love drawers – but that'll happen when we gut the room and replace the vanity entirely.
The simplest, small space solution for us, of course, was a medicine cabinet mirror. Two of them. Side by side.
Don't you agree that a couple of afternoons, simple storage solutions and gorgeous pattern and color gave this drab space a serious oomph? I'll take that as a yes 🙂
Huge thank you to Royal Design Studios for the inspiration for our sea glass inspired bathroom walls. I just adore them.
By the way! You know the drill! This is a Monthly DIY CHALLENGE! So there are a WHOLE BUNCH of other stencil projects from my best bloggy friends to inspire you!
Other ways to disguise an ugly bathroom countertop
If stencilling the wall isn't your idea of a good time and you want to actually paint the bathroom countertop, you can certainly do that as well. Just be aware that is a solution that is much harder to change down the road and if you hate it, you'll end up redoing it and/or completely replacing the countertop. I think painting the walls is much less risky endeavour. But here are some tutorials to get you started;
Here, the Ugly Duckling house painted her countertops and then she did an update a few months later.
Here, Love and Renovations takes a similar approach, but she uses a paint technique to make her counters look like granite.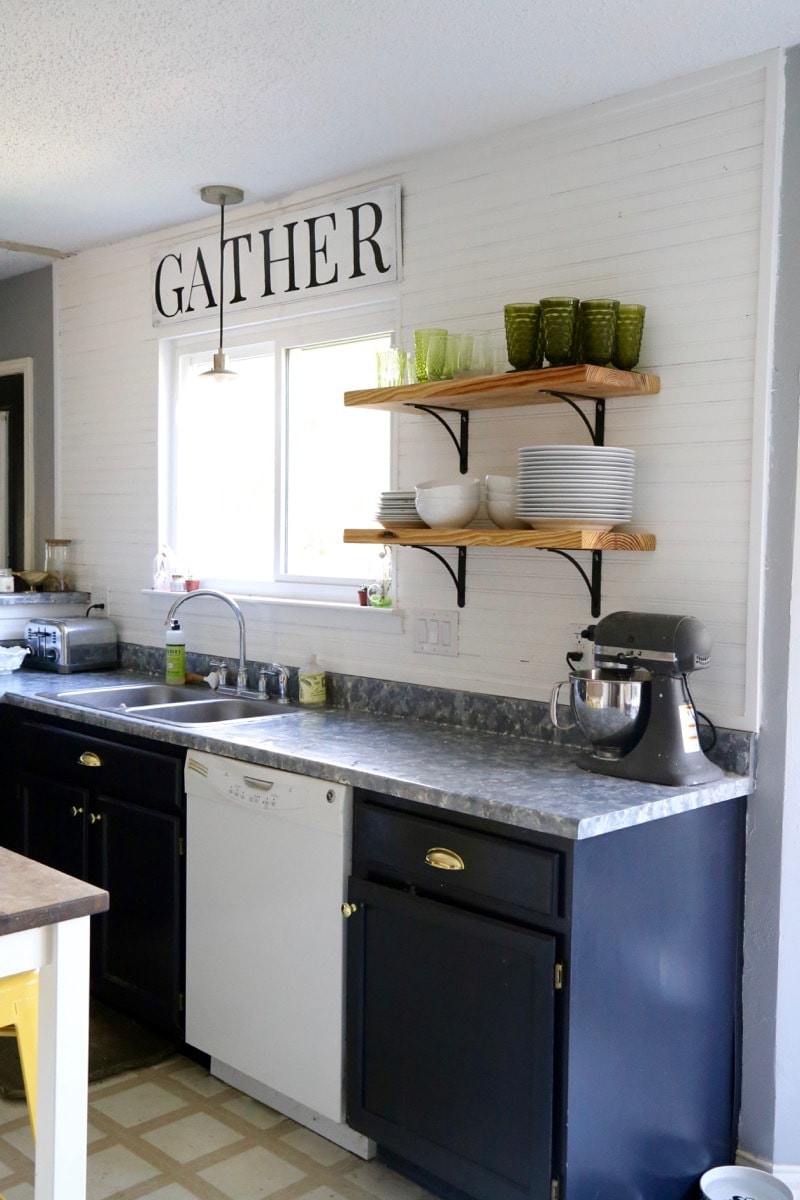 The Bright Green Door uses a spray paint technique to disguise her ugly bathroom countertops.
Here are some other posts you'll like
Royal Design Studio has sponsored this DIY Monthly Challenge. This post also contains affiliate links. View our full disclosure and privacy policy here. For information about sponsoring a Monthly Challenge, please contact us.